British sailor Alex Thomson's chosen vocation is not for the faint of heart. The decorated skipper has won numerous races and broken multiple records around the world. He is now preparing to compete in the ninth edition of the Vendée Globe, a gruelling non-stop, solo, unassisted race around the world that launches this year on November 8. In these pieces from our archives, we meet the extreme sailor and look back at one of his most daring stunts, the mast walk.
---
Alex Thomson is not one to do anything half-mast. He is one of the world's best-known extreme sailors, both with crew and on solo voyages around the world. But Hugo Boss put him in a waterproof suit one day, and, looking super snazzy, he did what he now calls "likely the craziest, scariest thing I have ever done". While the 60-foot long racing yacht he was in sped along and eventually came to a hair-raising 65 degree list, Thomson raced up the 30-metre main mast of the craft (equivalent to a 10-storey building). Once at the top, he may have had a James Cameron Oscar moment, but he's not telling. What we know for sure is he actually dove off the top of the mast into the ocean below.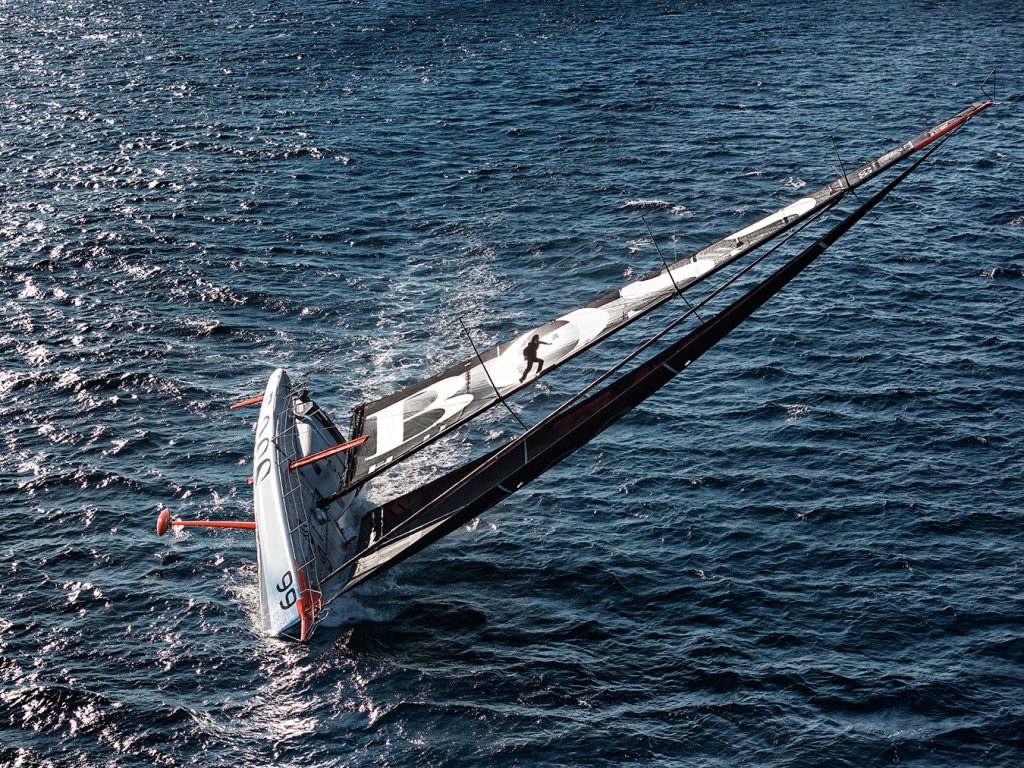 Not for the faint of heart, and not conforming to any cultural cliché about luxury, extreme sailing on a large yacht that boasts over 500-square-metres of sail is something that Thomson has dedicated a career to. There are cross-ocean races, traverses of the entire globe, and even a single-person around-the-world-in-80-days (literally) race called the Vendée Globe. It involves hard work, excruciating hours, and punishing physical duress. Thomson would not have it any other way.
The Vendée Globe, founded in 1989 by Philippe Jeantot, is a round-the-world, non-stop race for single-handed sailors and craft that conform to Open 60 class yacht criteria. It runs every four years, and Thomson has participated three times, going on four. The start and finish line is at Les Sables-d'Olonne in western France. It goes down the Atlantic Coast to the Cape of Good Hope, around Antarctica, with Cape Horn on the port side, and then back up to France. Competitors may anchor, but they cannot touch land, cannot draw alongside any dock, quay, or other vessel, and cannot receive any outside assistance. Disqualification is immediate and irreversible.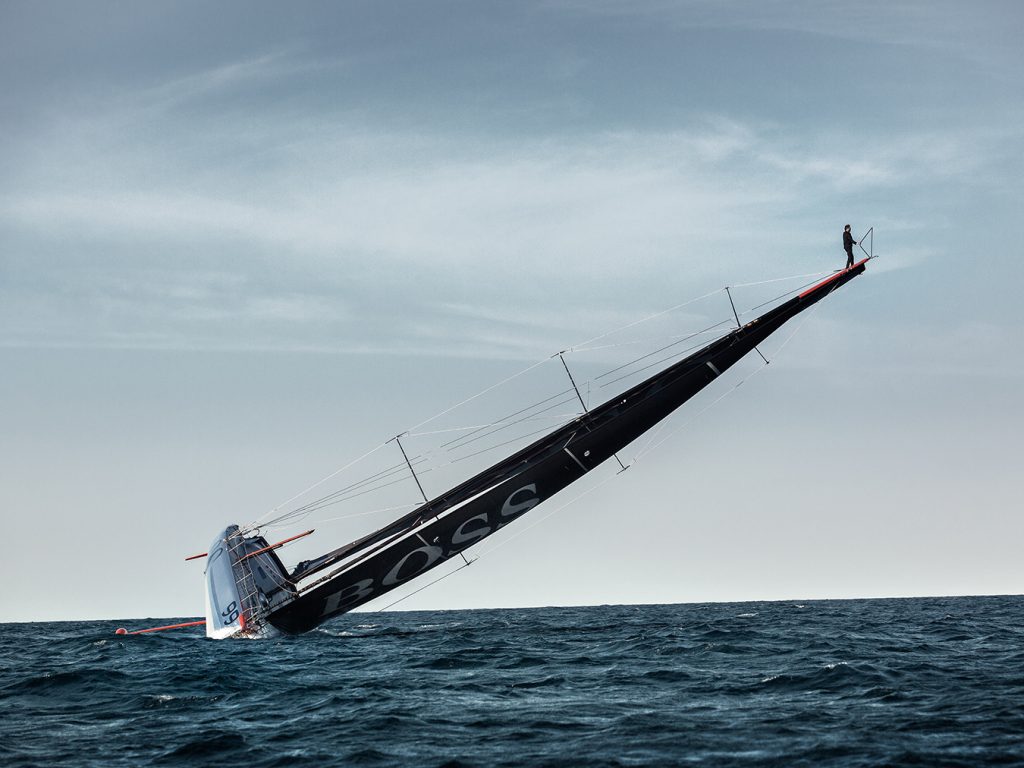 Thus, in 2004 he retired early with damage to his yacht, and in 2008 his boat was unluckily struck by a French fishing vessel as it arrived in Les Sables-d'Olonne three weeks before the start. Thomson patched it up, but three days into the race he discovered it was leaking, and he was again forced to abandon. Thomson's boat also lost its keel in the Southern Ocean during the 2006 Velux Five Oceans solo round-the-world race, and he was famously rescued by Mike Golding as his boat started to sink. The rules of the sea dictate that the nearest vessel must respond, and this case, it was one of his bitterest rivals, Golding, who was most proximate; the rival sailor did indeed rescue him, thus disqualifying himself in the process. Today, Thomson grins, and says, "He wasn't too happy with me, I can assure you. But he saved my life, no question about it. I had been in the water for nearly three days before he reached me."
 "I intend to win [the Vendée Globe], one day. It takes so much training, so much discipline, but I would not even consider doing anything else."
Hugo Boss is the sponsor of Alex Thomson Racing, and they helped him build a new, state-of-the-art craft, sail number GBR99 and called Hugo Boss; it is in Thomson's opinion "the most powerful, lightest Open 60 on the water." Open 60 simply designates a "box" prescribing length limits and stability requirements (design is not dictated at all). GBR99 was designed by legendary naval architects Finot-Conq and built by a who's who of the sailing world, including Jason Carrington, Neville Hutton, and Thomson's own sailing partner, Andrew Cape.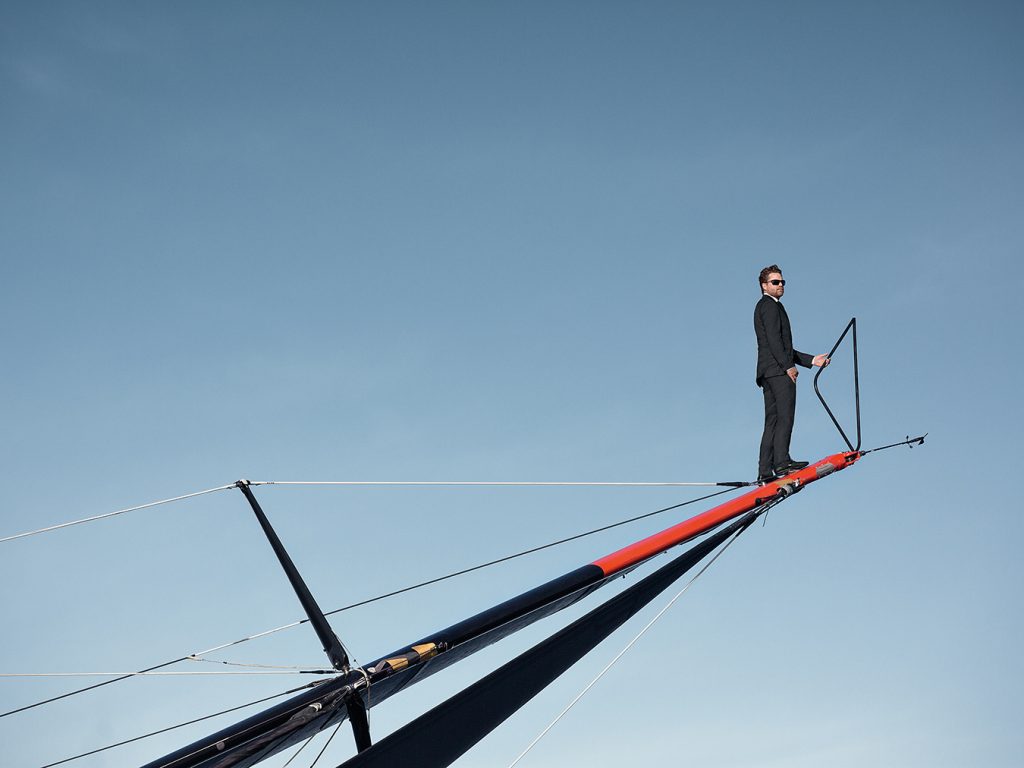 Some races, such as the Barcelona World Race and the Calais Round Britain Race (a crewed race around the British Isles), allow for more than one sailor aboard, and Thomson has been victorious in several of these races. The Vendée Globe remains his grail, with a third-place finish at 80 days 19 hours 23 minutes in 2012–2013 being his best. "I intend to win that race, one day," he says. "It takes so much training, so much discipline, but I would not even consider doing anything else."
He looks out over the waters of English Bay, issuing a few instructions to his crew as the Hugo Boss yacht glides with ease and alacrity over the waves. "I have begun a program of training myself to sleep for 20 minutes every four hours. That way, I can be completely alert, ready to do whatever needs to be done, and still have enough hours of sleep to sustain me. Eighty days alone on a boat is a long time, and so many things can, and do, go wrong." He smiles, and adds, "And that's not even talking about the weather!"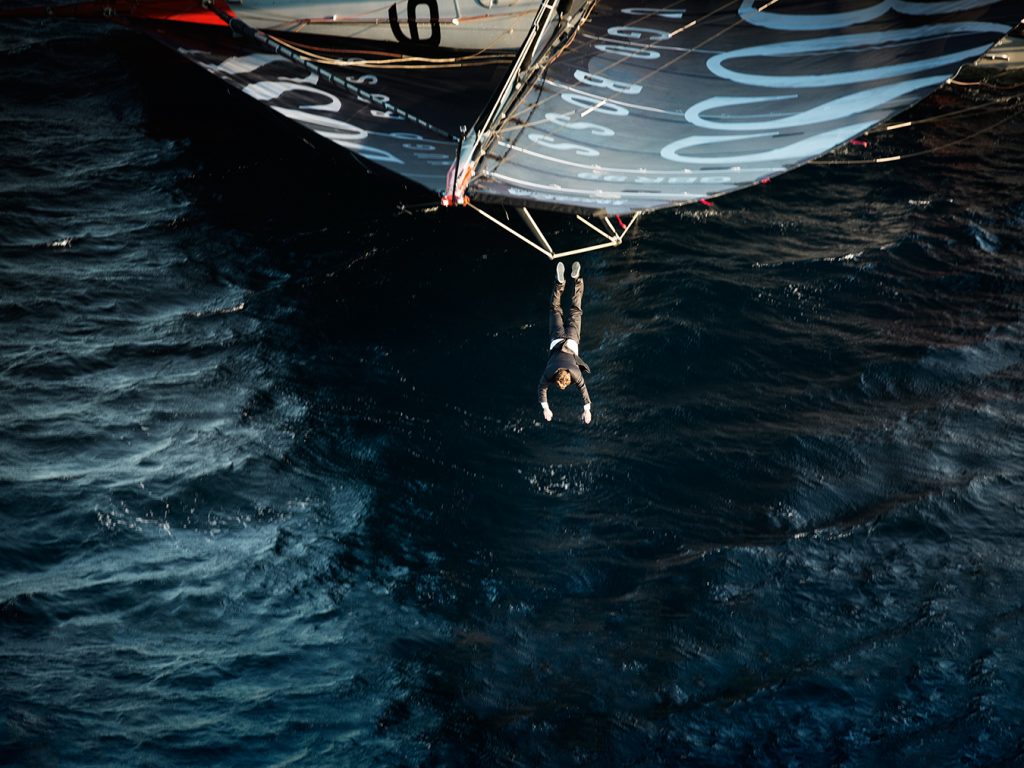 The yacht itself is as responsive to steering as any automobile, and it can achieve startling speeds, is highly manoeuvrable, and is as stable and safe as a craft of this kind can be. Still, the challenge, not really different than it would have been centuries ago, is to manage the impassive will of nature and physics against human strength, endurance, intelligence. That challenge is what keeps Alex Thomson motivated.
---
These stories from our archives originally ran in March 2014. Read more Transportation stories.