"Sam calls these 'adult tater tots,'" says Ronette Nyhan with a smile. A bowl of pillowy potato squares arrives at the table at The Courtney Room, the new restaurant inside Victoria's Magnolia Hotel & Spa. Executive chef Sam Harris likes to have fun with food, that much is clear: his Potatoes Courtney, an appetizer of duck fat-fried potatoes with creamy onion dip, is basically an instant classic. The way that people go to Nuba for the cauliflower? Yeah, they'll come to The Courtney Room for the potatoes.
Nyhan, director of sales at the comfortable upscale Magnolia Hotel, sips a French 250 (likely a nod to the island city's area code) made with Victoria Distillers Empress 1908 gin, local honey, lemon, and Charme De L'Ile; but it's Negroni Week, so this writer orders the restaurant's special twist on the classic cocktail, made succulent with a grapefruit juice ice cube.
For dinner, it's hard to pass on meat of some kind, as most of it is smoked in-house ("Sam got all his toys," Nyhan jokes). The Smoked Garlic Sausage is made in the restaurant, perfectly juicy and flavourful without sacrificing that satisfying casing crunch. Served with brassicas, carmelo, and mustard spätzle, it is comforting yet different. The entire brasserie-inspired menu is full of delights, from beef tartare with wild greens and fermented turnip and radish, to a decadent crème brûlée outfitted with a buttery shortbread cookie.
It all takes place in a delightful contemporary setting with accents of gold, brass, marble, and navy blue. Though the concept may conjure thoughts of cheesy 1970s bedrooms, sets of bead curtains hang from various parts of the restaurant and add a surprisingly sophisticated touch.
Opened in May 2018, The Courtney Room is an exciting step in a new direction for the Magnolia. "We've never operated our own restaurant," Nyhan acknowledges; the dining space, which connects right to the hotel lobby and also has its own entrance, was previously occupied and run by a third-party restaurant. Now it's all the hotel's, which means that the staff count increased dramatically—and that everything has been enhanced with a certain seamlessness.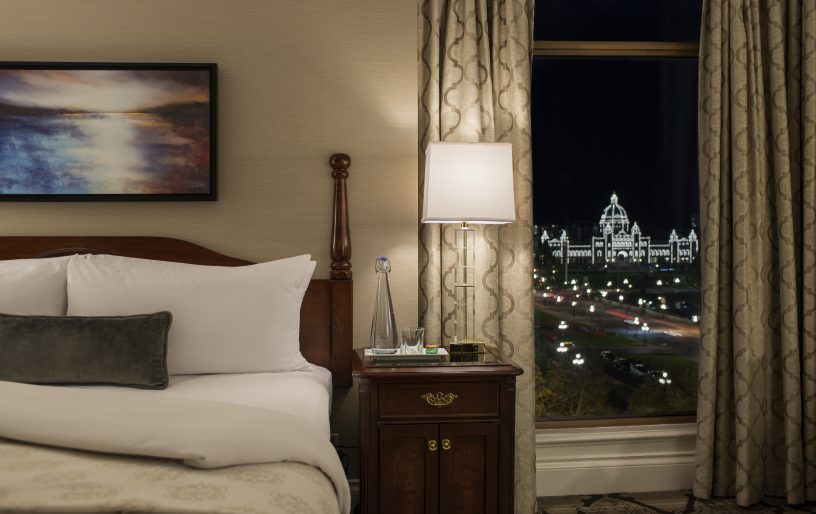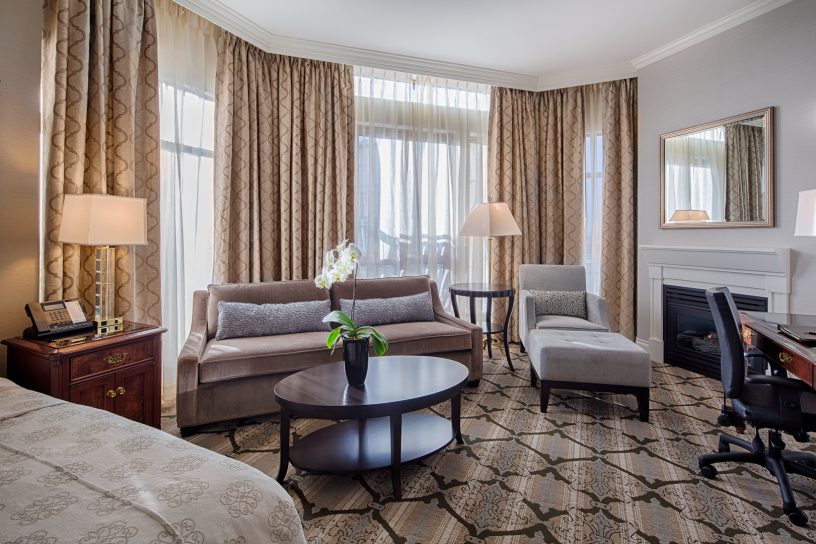 Located in the heart of downtown Victoria, mere minutes from the harbour and the Fairmont Empress in one direction and the iconic Munro's Books in the other, the Magnolia has become the most beloved boutique hotel in the area. With warm, attentive service and luxurious amenities, it is a place to be pampered and to explore in equal measure.
Rooms come equipped with L'Occitane en Provence bath products, and Diamond Rooms (located on the top two floors) boast amazing views of either the city or the ocean. When ready to adventure outside, the hotel has a series of handy maps with themes such as tea, craft beer, and shopping to help the uninitiated become more familiar with the lay of the land. Victoria is incredibly walkable, and it's not far to hot spots like Superbaba and classics like Olo or Agrius (the latter of which is The Courtney Room chef Harris's alma mater). Craft beer, spirits, and beans abound here, too, from Driftwood Brewery to Bows & Arrows Coffee Roasters.
Back at the hotel, it's easy to curl up in a comfy bed and catch up on emails, ready for a jump-start on the next day come morning. Breakfast is included back in The Courtney Room, with the option either to accept the continental offering of pastries and yogurt or use a credit towards something from the hot menu.
When it comes time to depart, which is a sad thing to do indeed, grab a cup of complimentary sparkling water refreshingly infused with mint and cucumber. Really, even checking out is something to smile about here.
"Do you need a taxi?" the clerk asks.
With plans to catch the V2V Vacations ferry right from the harbour, a ride is not necessary: "No, thank you, we're just heading to the water."
Without skipping a beat, he jollily replies, "Have a nice swim!"
The perfectly charming end to a perfectly charming stay.
---
Find your next Travel destination.