When I relocated to Victoria on March 27, leaving behind my home in Halifax for a year, I couldn't have known how lucky I would be to ride out the pandemic on Vancouver Island.
I had already decided to move, prior to COVID, to work on my new book, a collection of sketches set in B.C.'s vibrant capital. New to Victoria, I walked and biked its streets, sketching on location (after two weeks of carefully self-isolating), and began to notice the quirks and special characteristics of each neighbourhood.
While Victoria is filled with charming architecture, I quickly realized it's also brimming with both flora and fauna in its many parks and beaches. Its dedicated bike lanes and trails make it a pleasure to bike ride, and the city has a clear sense of community ethos even during COVID, as seen in the heart-filled windows of its homes and many quirky locally owned businesses.
Here are some sketches of the places I've discovered, and a few suggestions for visitors to enjoy the city beyond its much-photographed downtown harbour. Now more than ever, it's time to appreciate everything we have here in B.C.
Fairholme Manor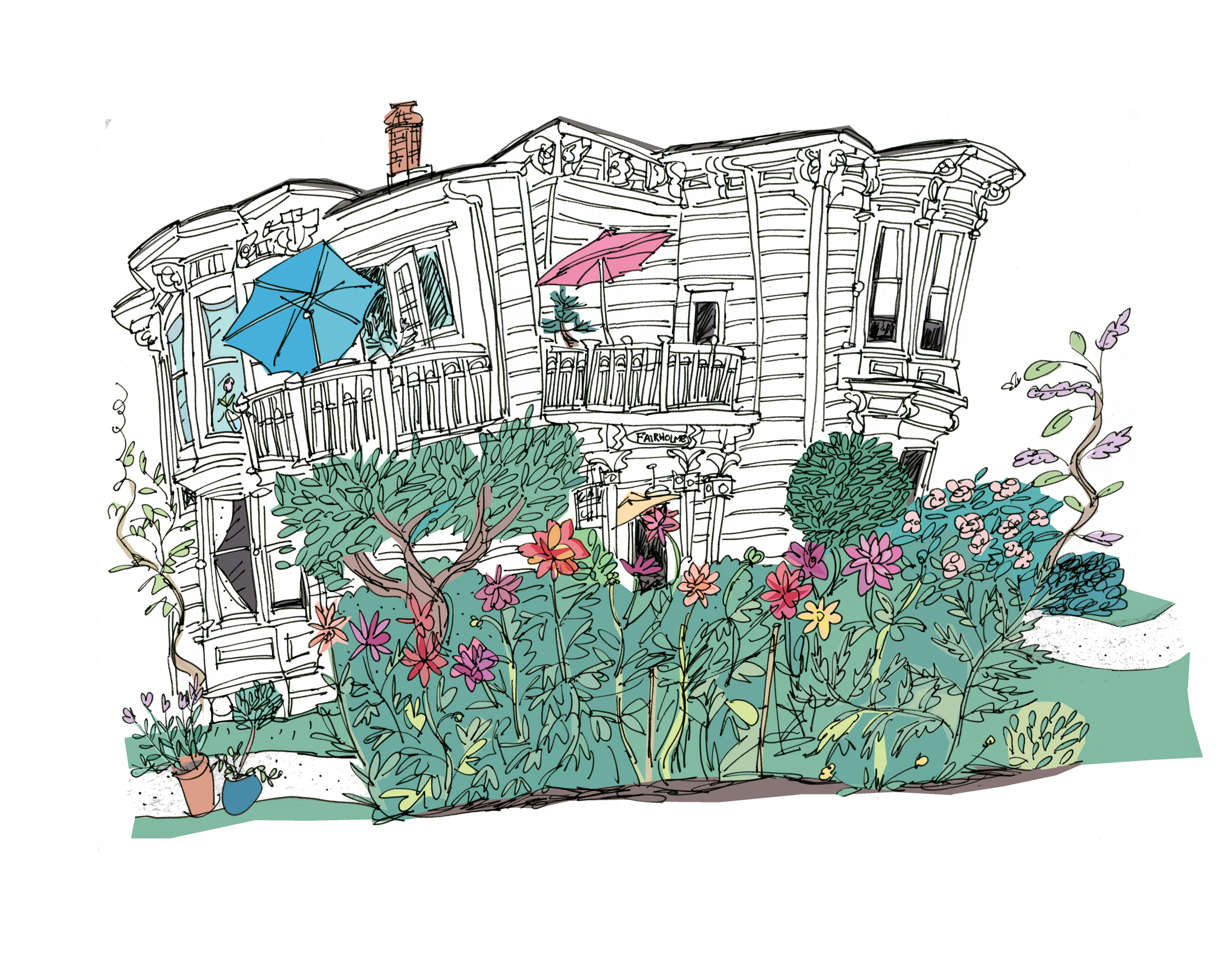 Located in the heart of the stately Rockland neighbourhood, Fairholme Manor is an elegant bed and breakfast that serves one of the best breakfasts I have ever tasted. Owner/chef Sylvia Main sources many of her ingredients from local farmers at the Moss Street Market on Saturdays, in nearby Fairfield. Flowers from the lush gardens grace the rooms; when I was sketching it was dahlia season, and the garden was putting on a show.
If you can't get a booking, the next best thing would be to stroll the gardens of Government House, which is just adjacent at 1401 Rockland Avenue. Meandering around its rose gardens, alpine garden, and a trail that circles a Garry Oak meadow is a lovely way to spend an afternoon. Access to the grounds of Government House is free, and it is open to the public from dawn until dusk.
Market Square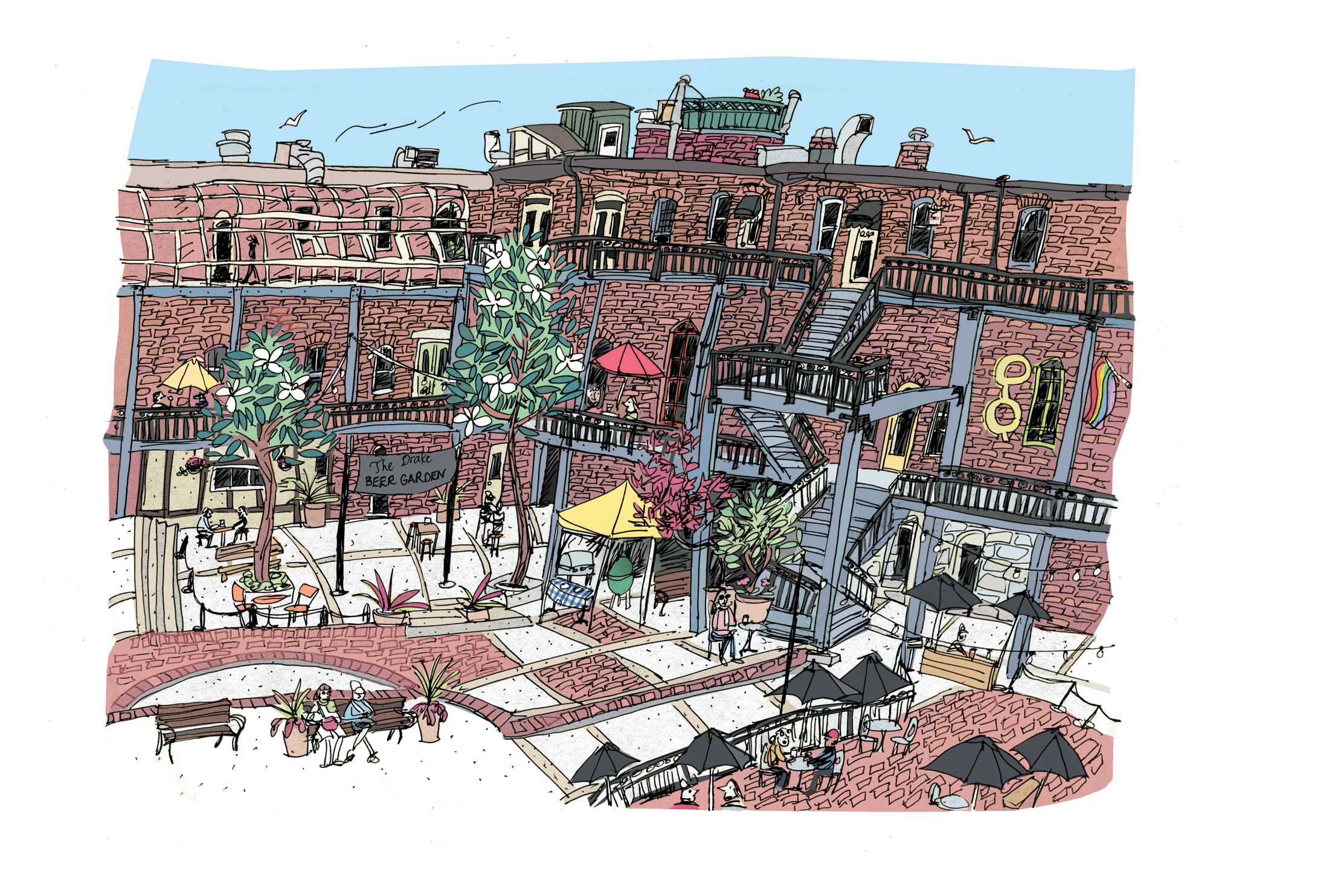 Market Square is a beautiful example of heritage buildings made to feel relevant. The warm brick courtyard houses several restaurants including the beloved vegetarian Green Cuisine, vintage and gift shops, Pacific Rim College, and two breweries, the Drake Eatery & Craft Beer Parlour and Whistle Buoy Brewing Company. The two breweries fashioned the courtyard into a beer garden this summer, which Isaiah Archer of Whistle Buoy says will last into the winter, with a tent for colder months.
Munro's Books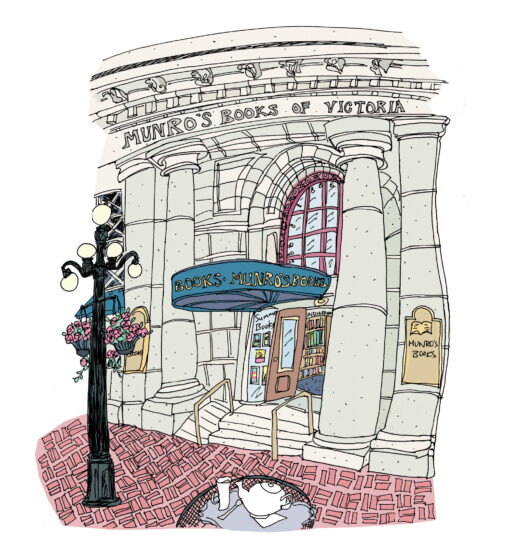 Munro's Books is a veritable place of worship for booklovers, offering a great selection of literature in a beautiful heritage building, originally built in 1909 as a Royal Bank of Canada. Munro's began in 1963, founded by Alice Munro, the celebrated author, and her husband, Jim Munro, in a less prestigious location on Yates Street, and became an important beacon well before it moved to Government Street in 1984. Though browsing is a different experience these days, it is still possible, with masks encouraged and a time limit of 20 minutes. Still well worth it.
James Bay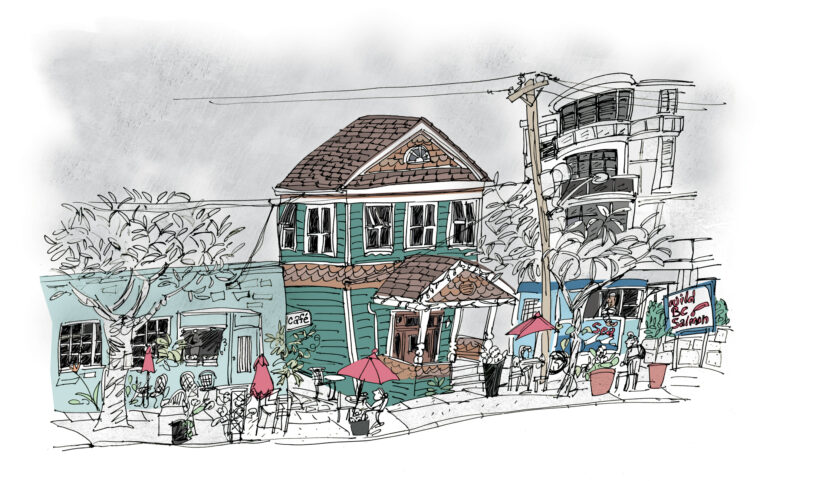 To get to James Bay from downtown, grab a yellow water taxi in front of the B.C. legislature buildings and head to Fisherman's Wharf. Walk past the eclectic houseboats and across the green expanse of Fisherman's Wharf Park to get to Finest at Sea. Housed in a shingled dwelling painted green, it is a great place to grab delicious seafood tacos from the food truck out front or some candied salmon from the fish shop around back. Outdoor seating with umbrellas is available, making dining outside possible even during a slight downpour, which was the case when I was there sketching.
Belfry Theatre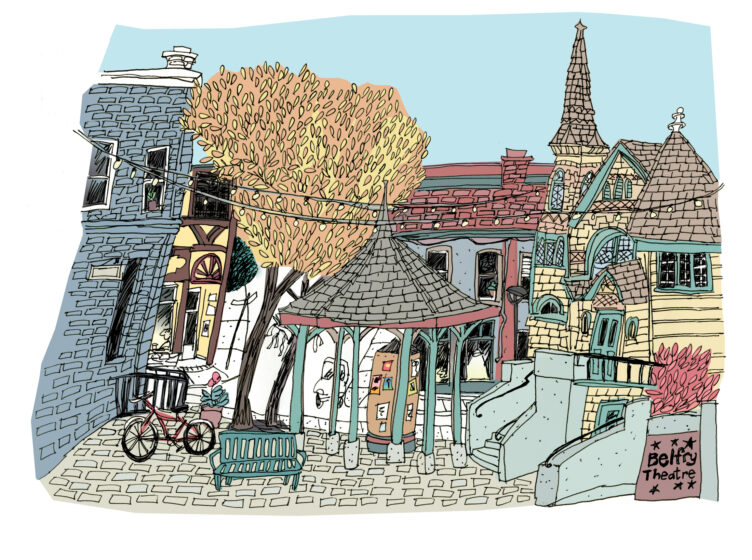 The Belfry Theatre in Fernwood keeps watch over the neighbourhood square, its spire the highest landmark in sight. The theatre itself is closed "till the cherry blossoms come back," as stated optimistically on a signboard; for now any Belfry programming is online. Just beyond the theatre, a cluster of eateries have made use of the street for al fresco dining and are worth visiting. Aubergine Foods is a small hole-in-the-wall grocery store, specializing in South African foods. If you have ever wondered where in Canada you can find the flavourful biltong, a cured meat with a distinctive flavour, this is the place.
Galloping Goose Regional Trail 
The Galloping Goose Regional Trail begins in Vic West, accessible from downtown Victoria using the Johnson Street Bridge bike path, and extends 55 kilometres through Saanich, View Royal, Langford, Colwood, Metchosin and all the way to Sooke. However, even a short bike ride along the Vic West portion and over the Selkirk trestle bridge is rewarding, especially if you finish with a treat at Fol Epi. The French bakery's Harbour Road location is next door to Trek Bicycle Store, which offers bike rentals.
If you'd rather be on the water exploring the Gorge, there are a few options. The local Victoria Harbour Ferry has guided tours in its little yellow pickle boats, which includes a brief history of the area. Hot Tub Boat Victoria rents floating hot tubs. Yes, you read that right! With a wood-fired-stove heating system and an easy-to-use rudder for steering, it is a truly unique experience, and on offer throughout the winter.
Mount Douglas Park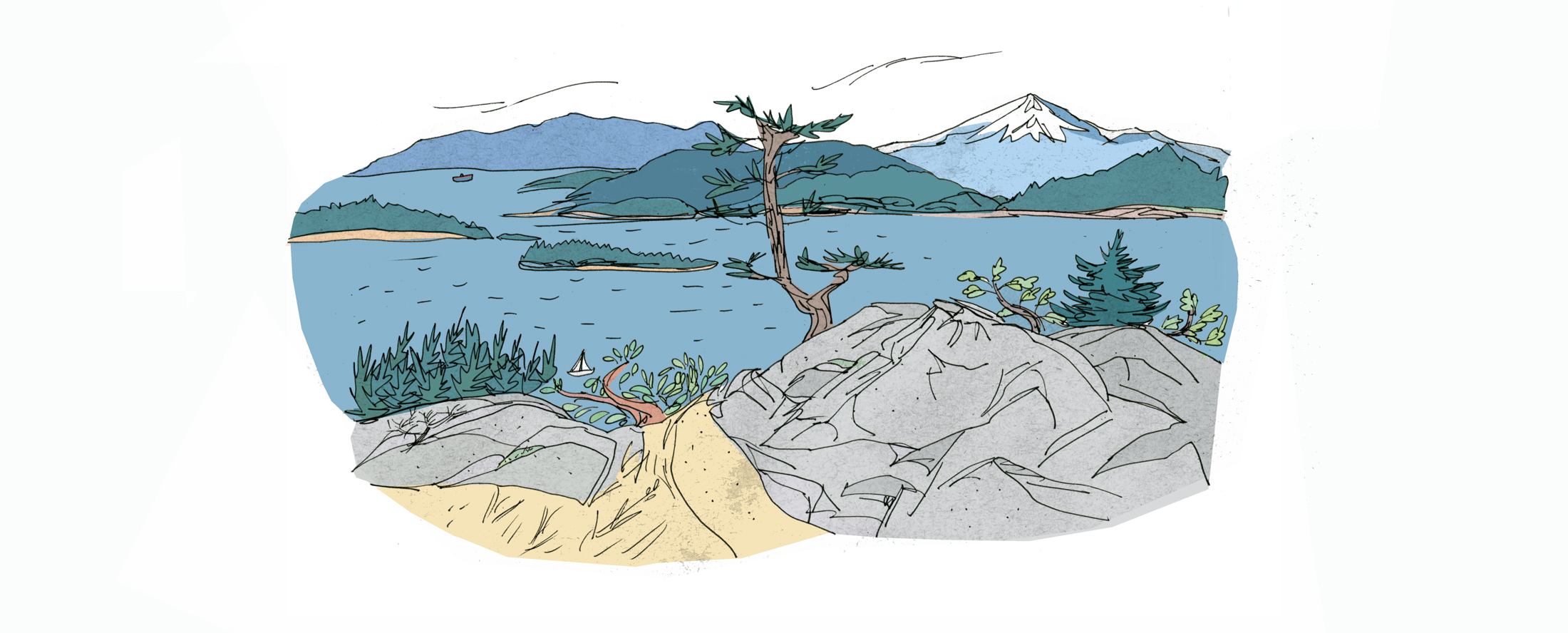 If you need to get some perspective, you can either hike Mount Doug (Pkols as it was named by the Coast Salish people) or drive the winding road to its summit, where a panoramic view of the city, the Gulf Islands, and the Cascade and Olympic mountains in the U.S. awaits. Picnic provisions can be procured at the Root Cellar for farm-fresh produce or Fig Deli for authentic hummus, olives, baklava, and other Mediterranean delights.
Fairmont Empress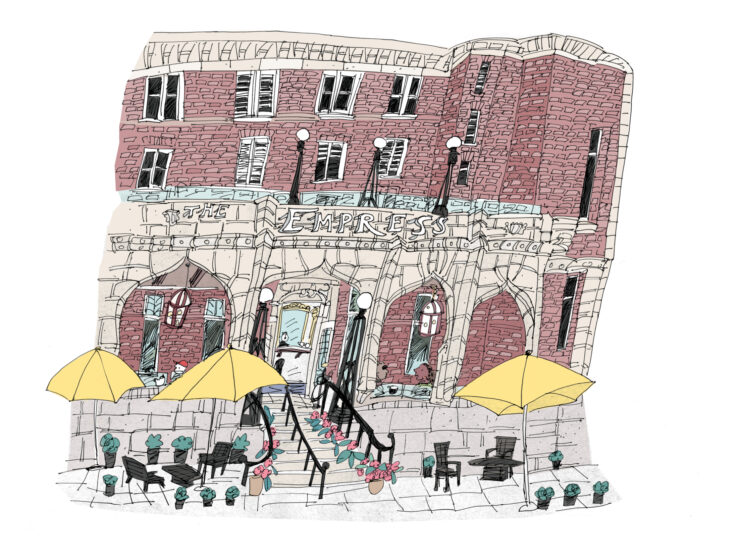 Of course, I can't sketch Victoria's charms without including The Empress Hotel, where I'm sure it would be magical to sleep in one of its 464 rooms. However, staying here isn't the only way to enjoy this grand old hotel. As I sketched its veranda, a steady stream of patrons, including little ones in party dresses (with matching masks) trotted inside for afternoon tea, which was reinstated after a brief COVID hiatus. There is also a new "tea to go" option, featuring iced tea made with the Empress' signature orange pekoe blend and a box of treats ready for a picnic. Enjoy it this fall before the hotel closes for renovations for 87 days starting January 3.
---
Emma FitzGerald is the author/illustrator of Hand Drawn Vancouver, and Sketch by Sketch Along Nova Scotia's South Shore. Her new book, Hand Drawn Victoria, is scheduled to be published by Appetite in spring 2022.
Read more stories about our Communities.