Chef Sam Fabbro tells me about his Québécois grandmother, a smile lighting up his face as he remembers her cooking. She married into a proud Northern Italian family and found herself learning an unfamiliar cuisine to feed hungry mouths. As a wide-eyed kid, Fabbro watched her in the kitchen, absorbing the spirit of adventure and creativity he would draw upon in his culinary career.
"I realized Italian food can be more than what's cooked conventionally. My grandmother would make things no Italian would make," he says. With learned traditional techniques with gusto, but inventively added peas, corn, and tomato paste to sacrosanct risotto. "In my opinion, she became one of the best cooks of the food in the family," he says.
I'm sitting with Fabbro at Nox, a restaurant he and restaurateur Alejandro Diaz recently opened on the ground floor of the And-Co building, a shared office space in Coal Harbour. The chef-owner team are well known for El Santo, a restaurant that celebrates Diaz' Mexican roots, and the now-closed Amaranthus, a plant-based establishment. Nox bills itself as contemporary West Coast Italian cuisine—I'm here to find out what that means.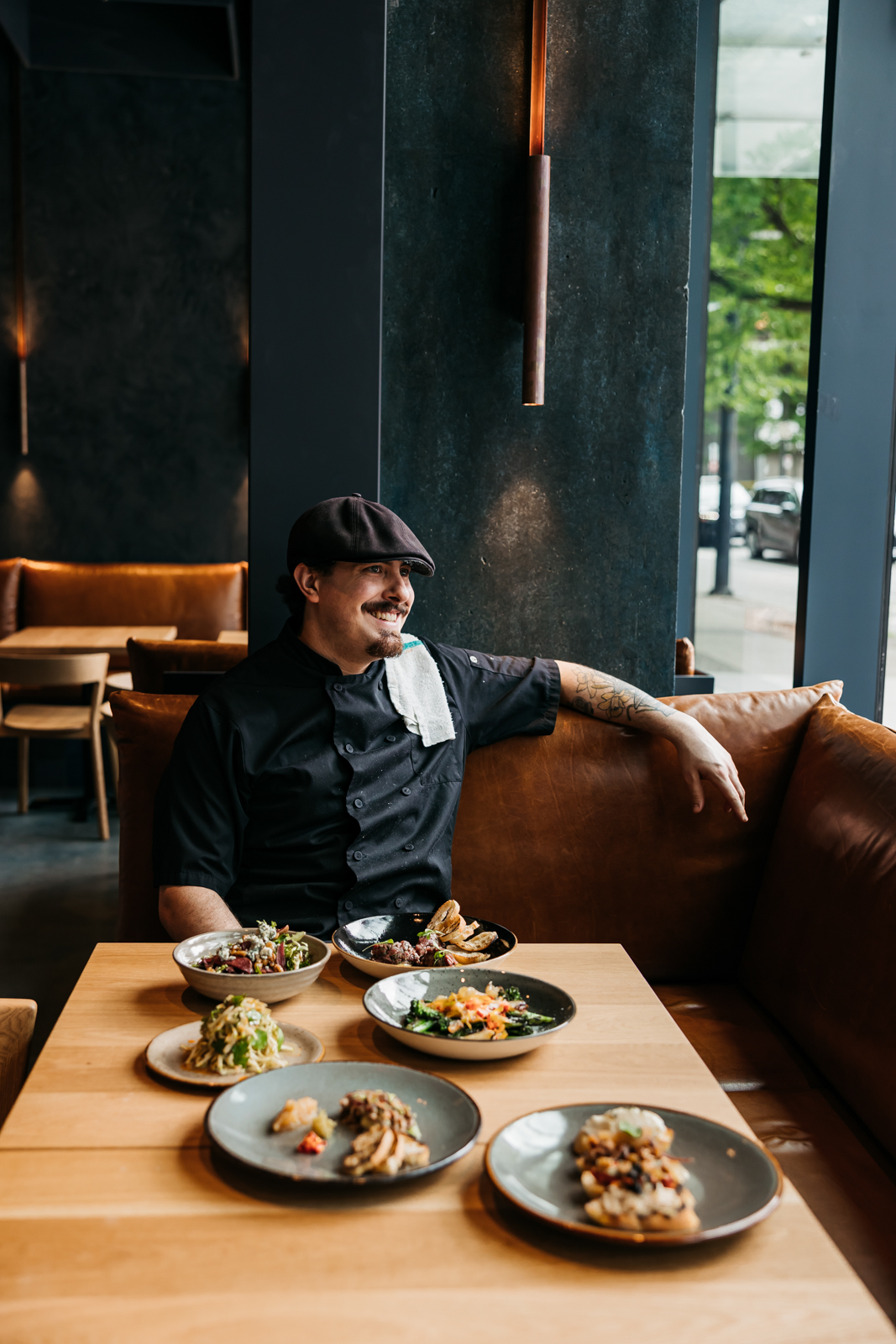 The interior is the first clue to the restaurant's old-yet-new approach. The strikingly modern room takes inspiration from the restaurant's namesake, the beautiful Roman goddess of the night who gave birth to Light and Day. Sunlight streams through large windows, illuminating the smoky midnight-blue walls. Blond wood and cognac-leather seating soften the dark palette. The effect is inviting yet elegant.
Fabbro, sporting a black chef's jacket and newsboy cap, seems at home at Nox, the highest point yet in a career at some of the top restaurants in town, including Cobre, Raincity Grill, and CinCin. While he's the third generation of his family born in Canada, Fabbro has spent his life steeped in Italian culture and food. His grandfather often joked, "There are only two types of people in this world: people who are Italian and people who want to be Italian."
The popularity of Italian food in North America emerges from a complex history of immigration and cultural transformation. As historian Simone Cinotto recounts, in the late 19th and early 20th century, many Southern Italians migrated west, adapting their cuisine to the abundant ingredients of their new home. Over time, their spaghetti and meatballs, pizza, and chicken parmigiana became mainstays of American cuisine.
"'Italian' has taken on its own meaning here. When a lot of people think of Italian food, it's still red sauce pasta," Fabbro says. And while places such as Pepino's Spaghetti House specialize in such hearty nostalgic classics, Italian dining in Vancouver covers a broader spectrum of the cuisine. Giardino and Cioppino's offer upscale takes that are closer to tradition. Kissa Tanto, meanwhile, broke new ground by bringing together Italian and Japanese influences.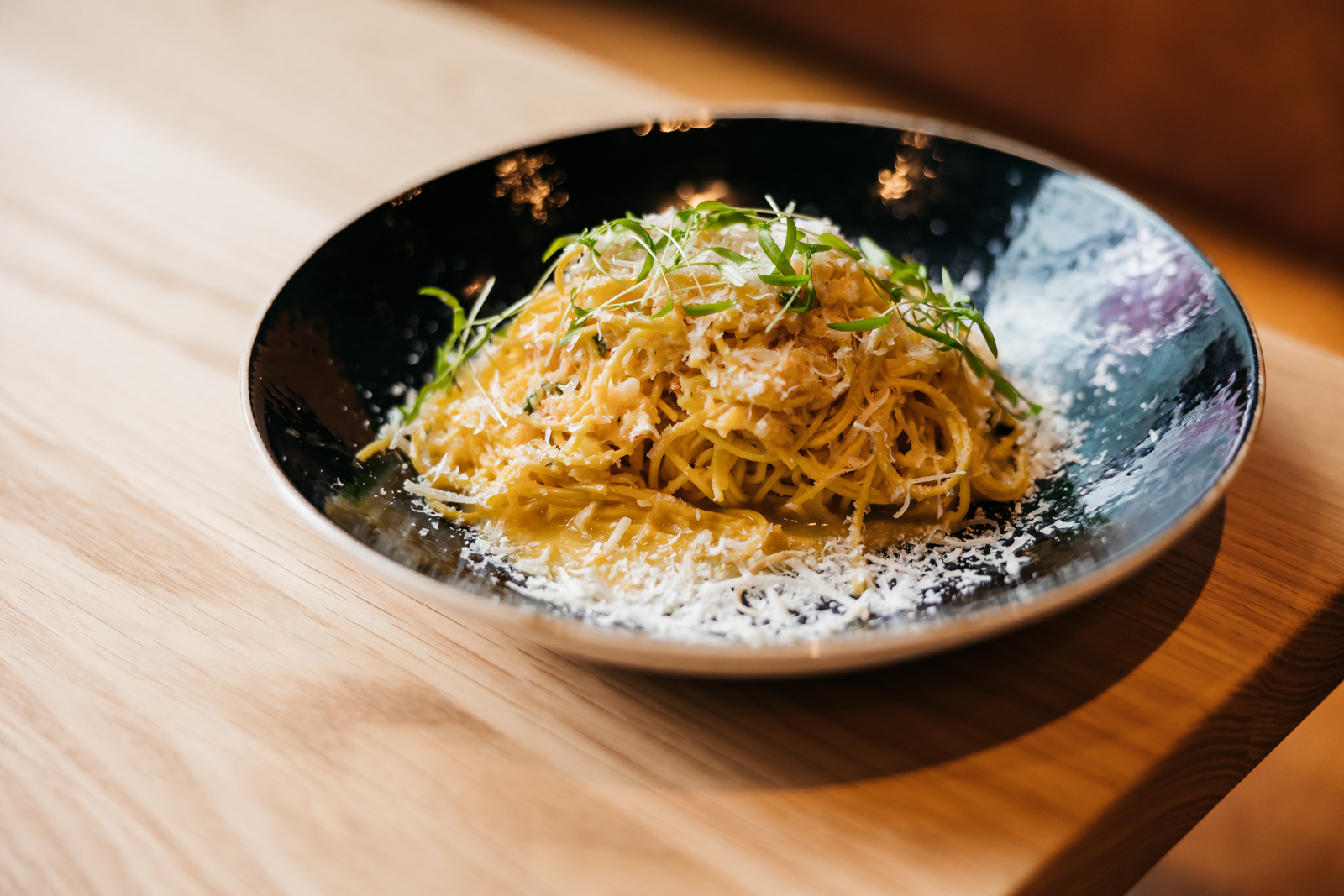 But back in Italy, there is no singular authentic cuisine. Each part of the country specializes in dishes that are a product of specific growing conditions, history, and culture. Italian food's locality means it can't be transported in a rigid way. "To me, the takeaway from Italian food is less about the ingredients that they use and more about the freshness and quality of them and the techniques," Fabbro says.
Fabbro crafts his pasta the old-fashioned way, using a rolling pin and a hand-crank roller instead of a fancy extruder. He's been making fresh pasta since he was a kid and further refined his techniques at CinCin. He takes pride in ravioli, cavatelli, and tagliatelle produced in-house, free of modern shortcuts.
While he adheres to many time-honoured principles, the menu at Nox is his interpretation of Italian cuisine, three generations from the homeland. "It's how someone growing up in the food industry here would see Italian food," he says. Fabbro weaves together the disparate threads of his culinary background—from his grandmother's risotto to the farm-to-table ethos of Raincity Grill—in each of his dishes. The West Coast speaks through local ingredients, such as kohlrabi sprouts and honey, but also the diverse cultural influences that make this city's culinary scene vibrant.
A dish of marinated crab egg noodles brings Fabbro back to feasting with friends on Asian noodles in culinary school at Vancouver Community College. Taking Singaporean chili crab as his inspiration, he marinades local Dungeness crab in Calabrian chili, olive oil, and lemon. The cooked crab is added to fresh egg noodles tossed in egg yolks and pecorino, similar to a carbonara. Fabbro garnishes the dish with pansies from his home garden as a final personal touch.
Other creations showcase unique West Coast flavours. Fabbro ages boar wrapped in bull kelp from Haida Gwaii for five days and then roasts it until tender. The boar is topped with a fried egg and served with grilled octopus. An accompanying salsa negra of squid ink, black garlic, and bull kelp adds further umami⁠—and a nod to Fabbro's Mexican culinary experience. While the combination of pork, octopus, and egg are common in Italian cooking, the local ingredients root the dish in this place. Each bite has a smoky brininess, reminiscent of a campfire by the Pacific Ocean.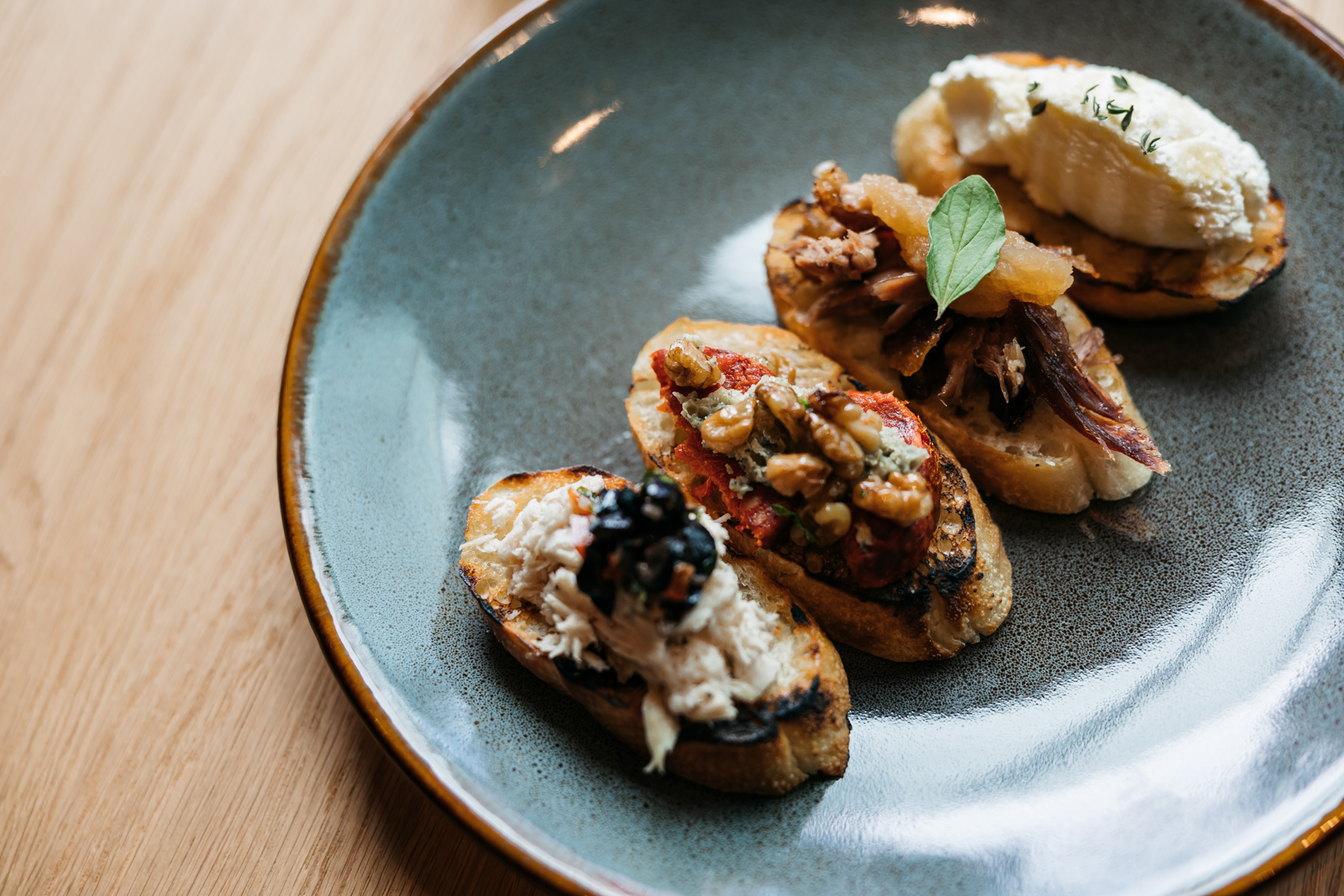 Fabbro minimizes food waste, an approach that characterizes contemporary West Coast cuisine as well as traditional Italian cooking. Excess ingredients from one dish are used creatively in another. Fabbro serves a roasted parsnip and smoked apple salad, which he first came up with at 18. "This is the first time I've ever put it on a menu, so I'm really happy about it. But when I was a kid, I didn't care about the trim," he says. At Nox, he repurposes the apple trimmings into a smoked apple jam and the parsnip in a duck stock to make anise jus. Leftover duck leg confit from a terrine appears in a cicchetti (small snack) of grilled bread topped with smoked apple jam.
When I ask Fabbro to talk more about this synergy of Italian heritage and West Coast upbringing, he pauses. "It's hard to describe because it's such a part of my head. I've never had to put a lot of it into words," he says. Instead, this culinary melding finds eloquence in locally attuned dishes and another exciting evolution of Italian food in Vancouver.
---
Read more local Food and Drink stories.