"I really wanted to create a rich, savoury, and addicting appetizer that could showcase some of the amazing wild mushrooms that grow here in B.C.," says Jim Vesal, executive chef of Vancouver's newest plant-based restaurant, Mila. A sister concept to the popular vegan pizza parlour Virtuous Pie, Mila is set to open its doors in Chinatown this month.
For this appetizer, Vesal has paired rich and earthy mushrooms with tangy cashew ricotta and crusty sourdough, with just a hint of truffle. "This dish feels like a warm hug and is the perfect start to any meal—or eat it as the main itself," he says.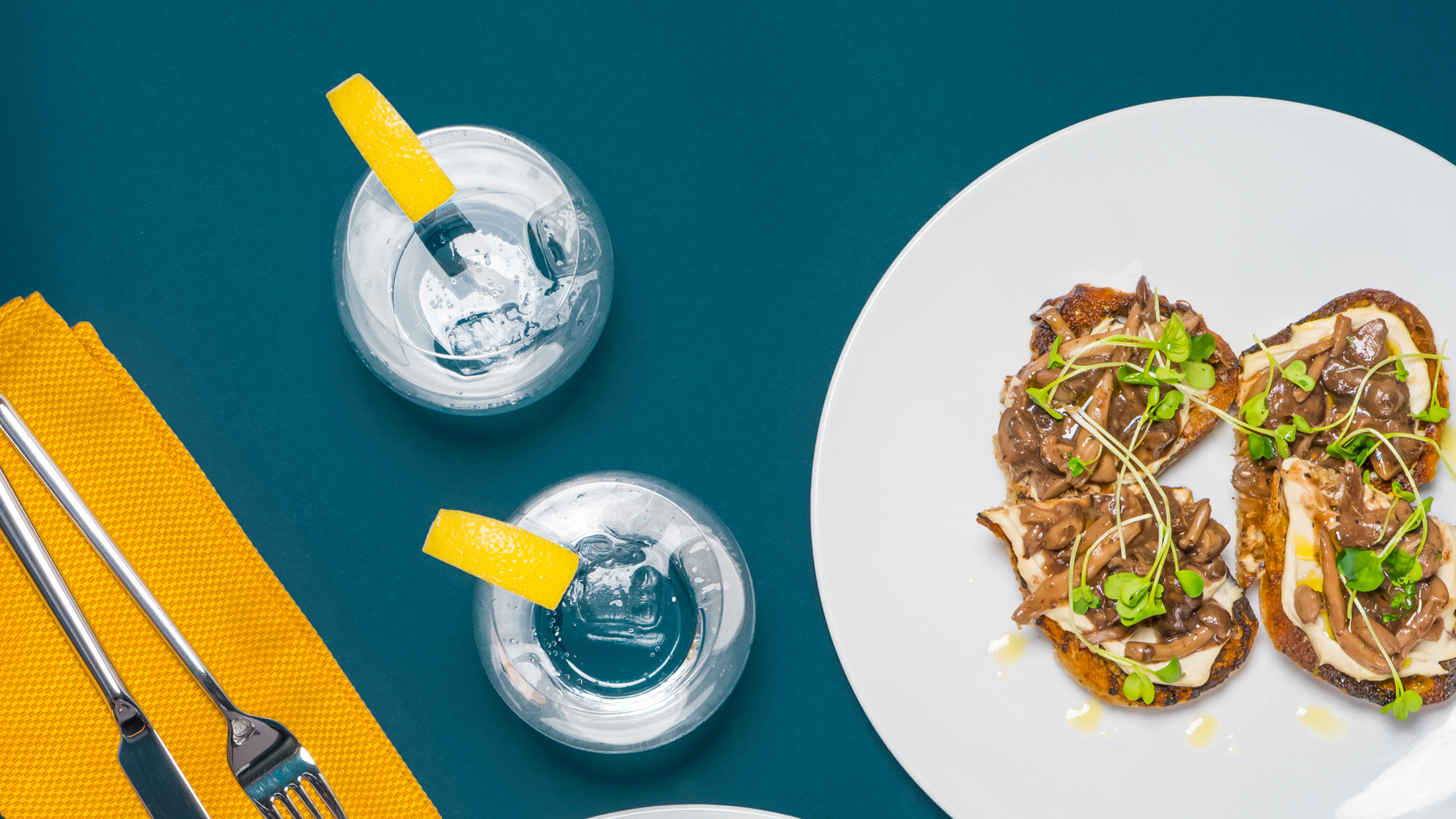 Mushroom Toast 
Ingredients
2 slices of your favourite sourdough, thick cut
For the cashew ricotta:
5 ounces cashews, soaked for 3 hours in cold water
1/2 tablespoon salt
1/2 tablespoon lemon juice
1/2 teaspoon onion powder
1/2 tablespoon nutritional yeast
3 tablespoons water
For the mushrooms:
10 ounces mixed mushrooms, stems removed, washed, cut in 1/2inch pieces
2 tablespoons olive oil
1 small shallot, minced
1 teaspoon thyme leaves
2 cloves garlic, minced
2 teaspoon kosher salt
1 teaspoon coarse black pepper
3 tablespoons sherry
For the demi-glace:
2 cups vegetable stock
1 cup red wine
1/4 cup mushroom trimmings
1 teaspoon thyme
2 bay leaves
1 tablespoon cornstarch
1 tablespoon miso paste
1/2 teaspoon coarse black pepper
1/2 teaspoon salt
For the garnish:
Micro greens of your choice
Truffle oil
Method
For the cashew ricotta:
Add all ingredients to Vitamix or high-speed blender and blend on high speed until extremely smooth. Ensure you use the tamper to get the mix nice and creamy.
For the mushrooms:
Process all mushrooms and wash thoroughly with cold water. Save all the stems for the demi-glace.
Place mushrooms into rondeau on high heat with just enough water to cover.
Cook on high heat until all water is gone, and mushrooms begin to caramelize, then add all other ingredients except sherry.
Cook mushrooms until garlic and shallots are caramelized and mushrooms are soft.
Add sherry and cook to remove alcohol.
Remove from heat and allow to cool. Check seasoning.
For the demi-glace:
Place vegetable stock (reserving 1 tablespoon), wine, mushroom trim, thyme, and bay leaves in a pot. Bring to a boil until reduced by half.
Return to heat and bring to a simmer.
Make a slurry from the remaining tablespoon of vegetable stock and cornstarch and add to the simmering mixture. Simmer for 5 minutes, until cornstarch is thoroughly cooked and incorporated.
Remove from heat and whisk in the miso paste, black pepper, and salt.
To assemble:
In a hot pan, place 1/4 cup of mushrooms and  of the demi-glace. Bring to a simmer and cook until demi-glace is thick and syrupy and coating the mushrooms. There should not be a ton of liquid left.
Meanwhile, toast sourdough.
Top each piece of toasted bread with a few heaping tablespoons of cashew ricotta, then place mushrooms on top.
Garnish with truffle oil and micro arugula or your favourite greens.
---
Read more delicious local recipes.