Lukas Gurtner is talking about learning to dry-age his own beef when he is interrupted by whales.
Word has spread that a pod of transient orcas is merrily making its way through the frigid ocean that surrounds Sonora Resort, so excuse me, but Chef will have to wait.
It seems fitting that on Sonora, one of British Columbia's gorgeous and secluded Discovery Islands in Desolation Sound, a major wildlife sighting occurs in the middle of an interview. Only here would orca whales steal attention away from an a rising star chef.
After five years on the kitchen line, Gurtner was promoted to executive chef at the Relais & Chateaux-operated Sonora Resort in 2016. At 28, he is known to be the youngest person to hold the title at any of the luxury hotel group's properties worldwide. Funnily enough, despite his early success and the fact that his father is a chef, Gurtner didn't grow up thinking he would join the ranks himself one day.
"In high school I did mechanics, and my first year of college I did mechanics," he says, seated on one of the couches in Sonora's lounge . "I spent a bunch of money doing that and then decided, 'You know what? This isn't for me.' I got into the workplace and didn't really like it, and then told my dad I wanted to be a chef, and he called me an idiot." Jokes aside, the role of a chef is not an easy one, even for those in big cities with easy access to ingredients. But to be isolated on an island that is only accessible by helicopter, seaplane, or boat? That's a whole other level of challenge.
"There are lots of logistics you have to think about of course, being in such a secluded area," admits Gurtner. But his seafood comes in fresh twice a week, and depending on the season he enjoys foraging the nearby forests for salmonberries, huckleberries, and mushrooms. He works with as much island material as he can, but also sources from the Lower Mainland when necessary, working with a few choice suppliers including Aldergrove's Glorious Organics. "All my meat, all that kind of stuff is local as well," he says. "It's definitely tough in the way of having to plan it on a day-to-day basis—I only get my orders in twice a week, so that makes it pretty tough. But I think I'm fortunate to be here."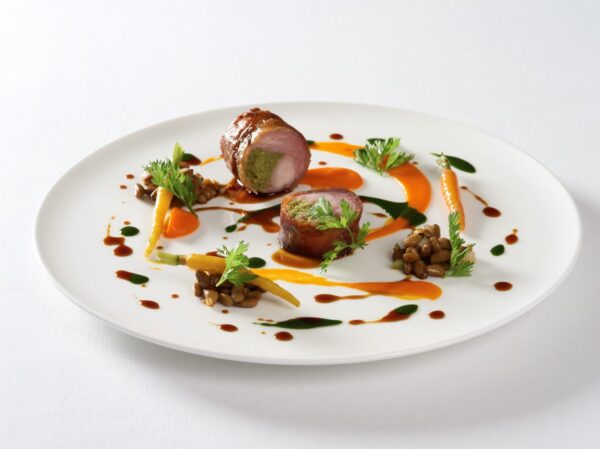 There is some undeniable natural-born talent, part in thanks to good genes (his father, Swiss-born Walter Gurtner, is a chef at Victoria's Bill Mattick's Restaurant at Cordova Bay Golf Course). Gurtner says his dad was initially confused about his move to chefdom from mechanics, but that "since I've been taking it seriously, it's brought us even closer. And it's amazing. Without having him a part of my life with cooking,  I don't think I'd be the chef or the individual that I am today. It's been really special."
Gurtner graduated from Camosun College's Red Seal program, and has worked in kitchens including the Hotel Grand Pacific in his native Victoria, and at Montreal's Laurie Raphaël under distinguished chef Daniel Vézina. At Sonora, his menu takes on a distinct West Coast influence, with a focus on local seafood and interesting herbs and plants. While he is still finding and perfecting his voice, some standout Gurtner dishes on a recent visit to the resort included Fresh Mozzarella Tortellini with parma broth, basil seeds, prosciutto, fennel pollen, and heirloom tomatoes; Fraser Valley Rabbit Porchetta with heirloom carrots, pine nut cassoulet, pancetta, and natural jus; and Grilled Boar Belly with broccolini, heirloom turnip and radish kimchi, pickled mushrooms, charred onions, and soy gel.
Of course, one doesn't come to Sonora, which is owned by London Drugs CEO Brandt Louie, just for the food—the aforementioned wildlife is present at every turn, and is the resort's main attraction. From the seals and sea lions lounging on rocks across the rapids, to grizzly bears that can be viewed on Orford Bay a short boat ride away, to the rare breaching humpbacks spotted on boat tours, the resort is teeming with pristine nature and majestic creatures. On top of all that, it's the warm service that brings the experience home, and undoubtedly draws people back again. From housekeepers all the way to executive chef, everyone plays their part, and is excited to do so—even, so it seems, the whales.
---