A few years ago, I found myself in Portland over Easter weekend. When my friends and I asked a local about potential restaurant closures on Easter Sunday the following morning, he replied by saying that in this town, brunch is religion.
It's hard to argue with that.
Let me start by acknowledging that brunch in Vancouver, as in most metropolitan cities, is a very subjective experience. Everyone has favourite spots, sacred spots—spots to visit again and again, spots to wait in line for, spots to get hunger pains in anticipation of. Some of those spots might be on this list, and many likely are not. Brunch is indeed a holy meal, a chance to saunter down the street on a lazy Saturday and catch up with friends or hide in a corner booth with a lover. No matter how you brunch and how often, it is a meal to be shared. So, consider this a somewhat extensive but not comprehensive guide to the city's best weekend eats.
The Doo-Wop: The Red Wagon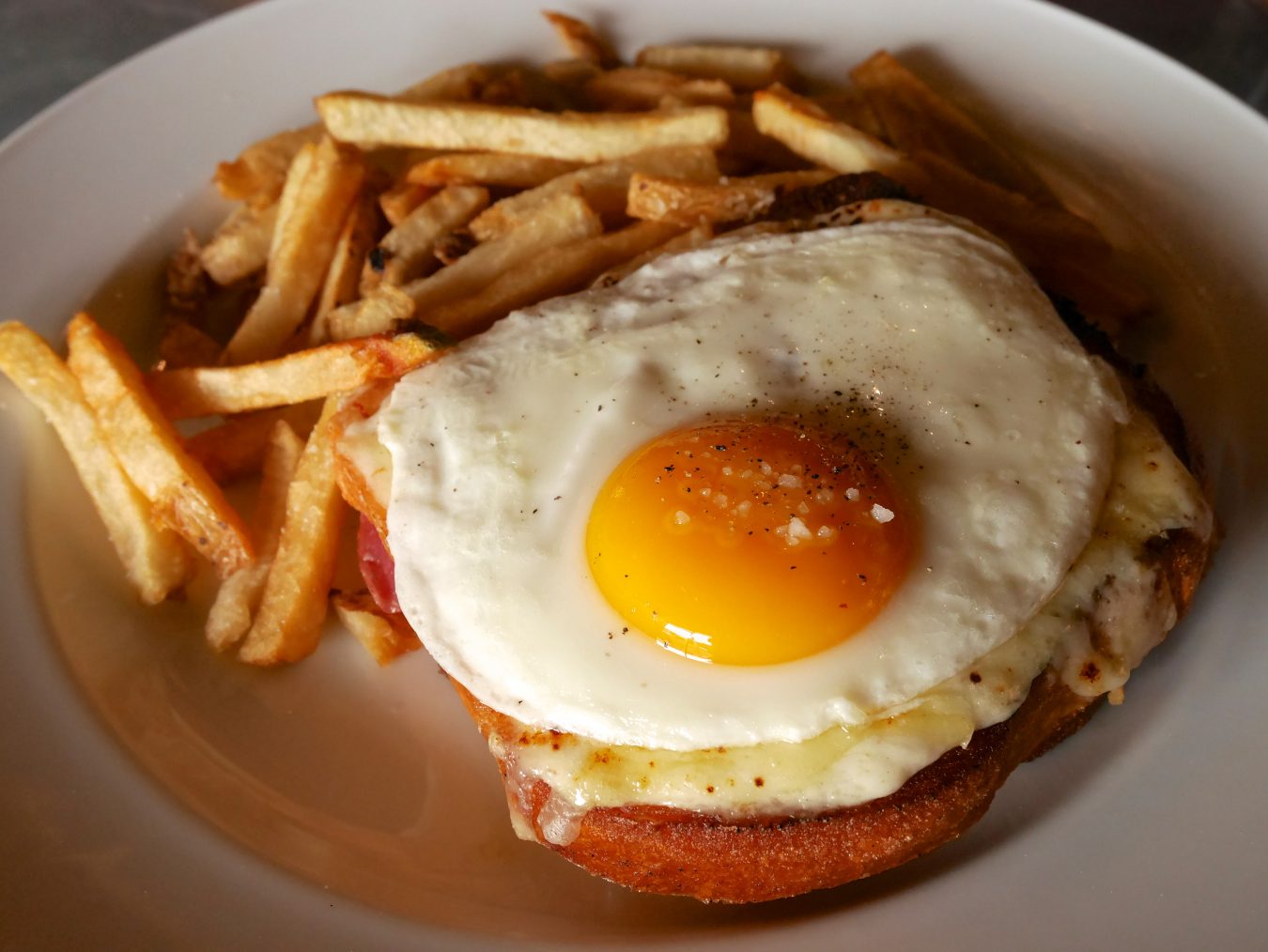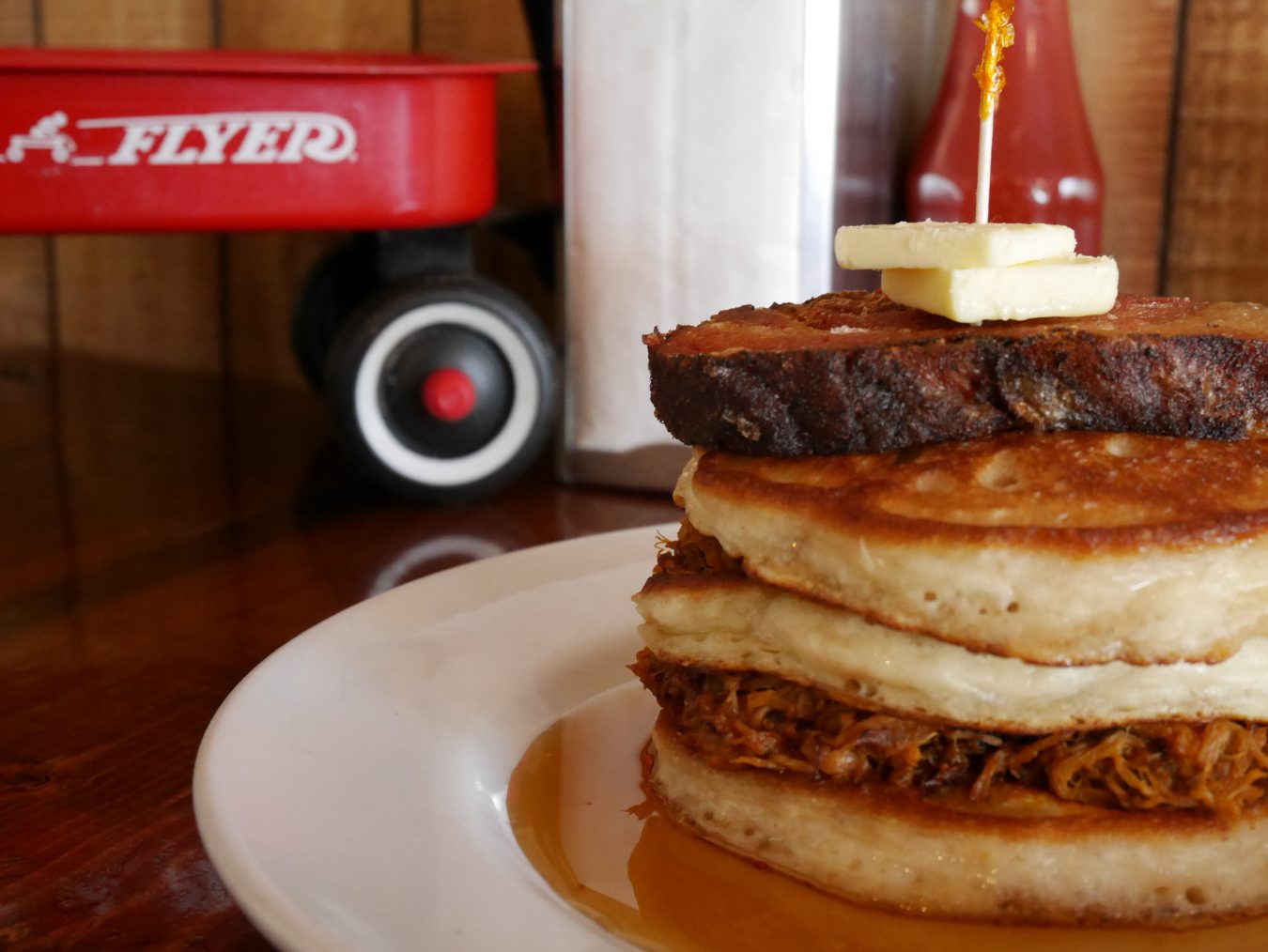 The Red Wagon might look like a greasy spoon, and in some ways it is—but this diner uses high-quality ingredients like free-run eggs, and smokes all of its meat in-house. The pulled pork pancakes might be the most famous item on the menu, but it's also hard to go wrong with the crispy pork belly (served with two eggs any style, grilled tomato, salsa verde, and hollandaise) or the Breakfast Banh Mi (pork belly or pulled pork, two eggs, mayonnaise, pickled vegetables, cilantro, and jalapenos served on a baguette). Pretty much everything comes with soft diner-style homefries, so any classic breakfast cravings are sure to be satisfied. Be sure to also check the chalkboard for the day's inventive and indulgent special.
The Dress Shirt: L'Abattoir
Festively named Bubbles at Brunch, L'Abattoir's weekend offering is certainly one for the books. Bubbles are not required but they sure are recommended, with a fine wine list that includes Haywire's Baby Bub and a Pierre Péters rosé brut from Champagne. For nibbles, good luck resisting the pastry basket filled with fresh scones and buns (the currant scone with jam and clotted cream is the stuff of legend); going heartier, the brunch burger is a bona fide classic, topped with a fried egg and crispy hashbrown. Other offerings include buttermilk and ricotta pancakes, and Niçoise salad with albacore tuna confit. Merci beaucoup.
The Like It Like This: Gyoza Bar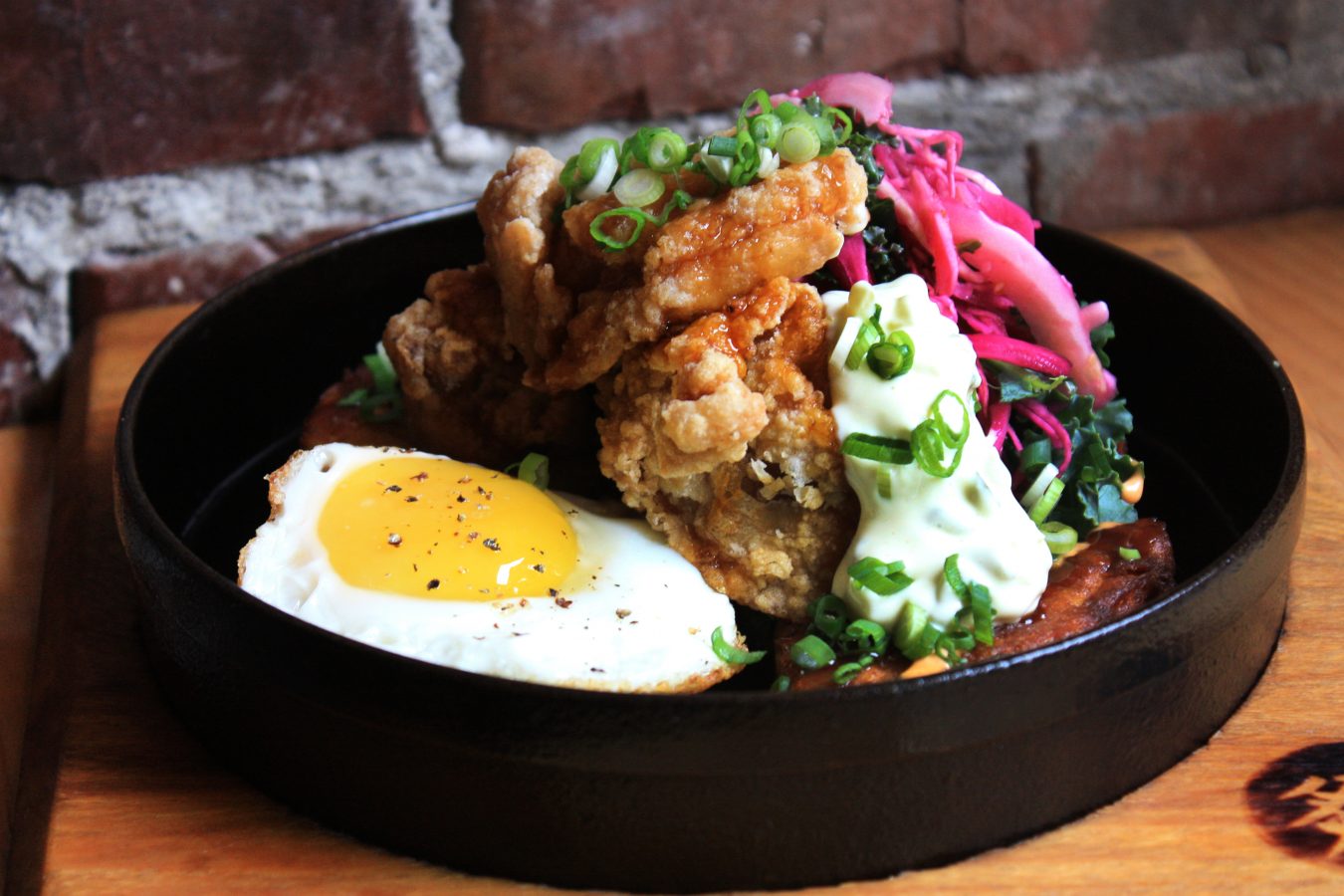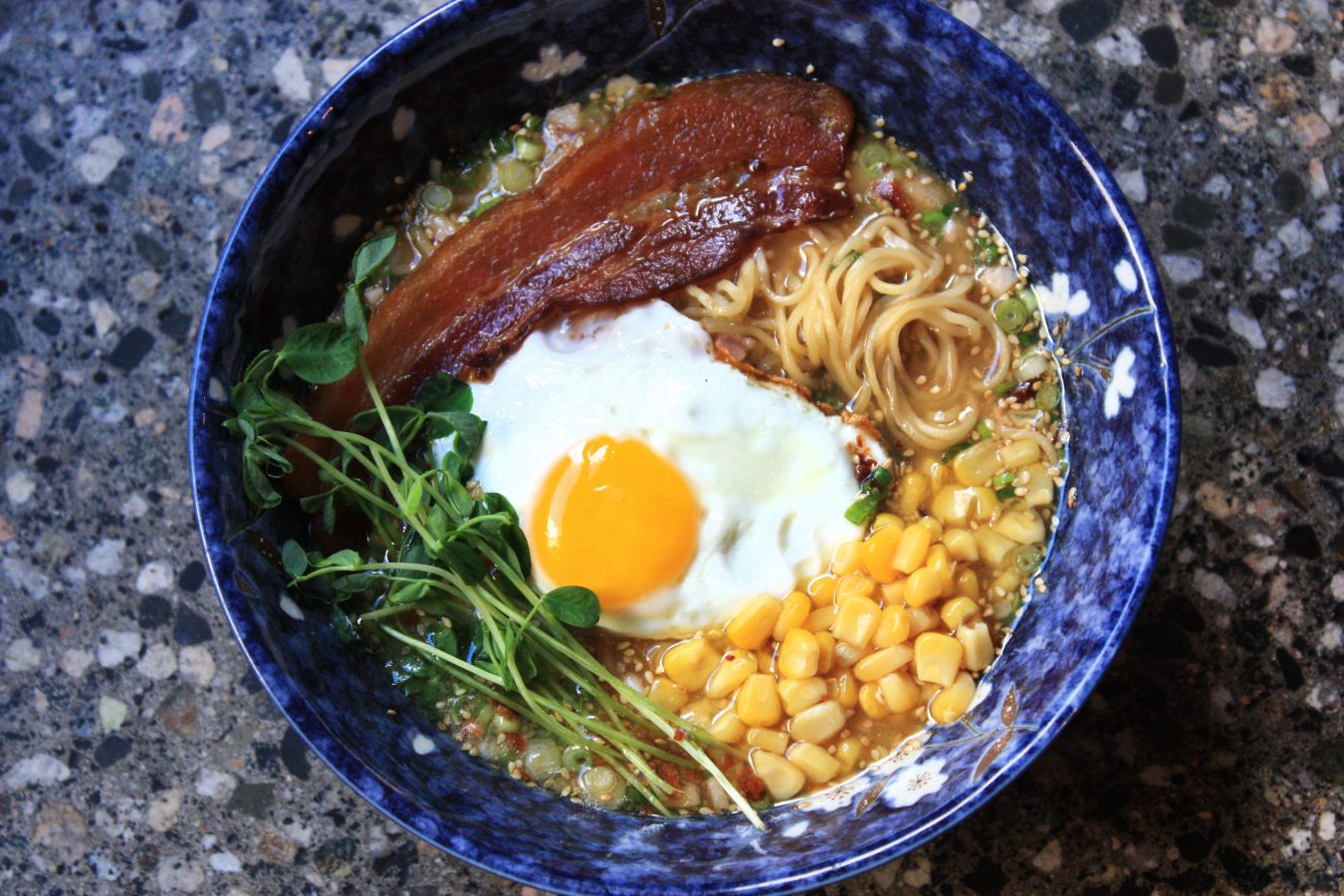 Launching brunch for the first time in March 2018, Gyoza Bar—part of the Aburi restaurant group that includes Miku and Minami—is already adding its bold voice to the conversation. Think breakfast twists on Japanese staples, like Bacon 'N Egg Ramen with bacon, corn, and a sunny side up egg over noodles and a smoked soy chicken broth, or the Pulled Pork Bao Benny (oh yes) with poached eggs, pickled jalapenos and onion, and maple miso hollandaise tucked into crispy bao buns and served alongside house-made pickled vegetables and kimchi corn hash. For something a little more adventurous, consider the Okonomiyaki + Chicken Karaage: sweet and sour soy-glazed chicken, sunny side up egg, Asian slaw, Sriracha aioli, and Japanese barbecue sauce served over a savoury Japanese pancake.
The Carnivore Castle: Wildebeest
A word to the wise: start with the apple fritters. Lightly dusted with sugar and deliciously crisp on the outside, these treats are a fine way to begin brunching; inside, the fluffy dough is mixed with chunks of apple, and a salted caramel dipping sauce makes it all rather supreme. Wash the sweetness down with a cup of cold brew coffee or French press, and then move on to the main attraction. Fans of simple breakfast fare will find comfort in Wildebeest's The Standard, which comes with two fried eggs, sourdough, "smashbrowns," and choice of fatty rosemary bacon or maple sausage. For the more adventurous, the Merguez Hash proves interesting, with two soft sous-vide eggs, crispy potatoes, sweet yellow corn, roasted peppers, lamb sausage, and harissa yogurt drizzled on top.
The Forever in Our Hearts: Café Medina
There will be a line, and you will have to wait in it. But once inside, hanger is quickly forgotten at this brunch staple. The lavender latte is famous and rightly so, and it's hard not to start things off with an order of waffles and dark chocolate dipping sauce. For filling up, consider the paella with spicy chorizo, orzo, grana padano, in-season vegetables, and avocado, topped with a fried egg and spicy charred tomato salsa; or Les Boulettes, featuring spicy Moroccan lamb meatballs, poached eggs, black olive and tomato stew, and grilled focaccia. Another hearty Moroccan classic is the Tagine, which comes with spicy merguez sausage, poached eggs, chickpea stew, black olives, preserved lemon, and focaccia. Top tip: if just looking for a snack, Café Medina's takeout counter offers up coffee and waffles to go.
The Hopped and Hip: 33 Acres Brewing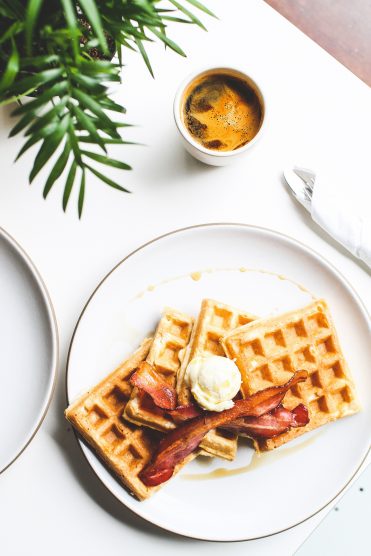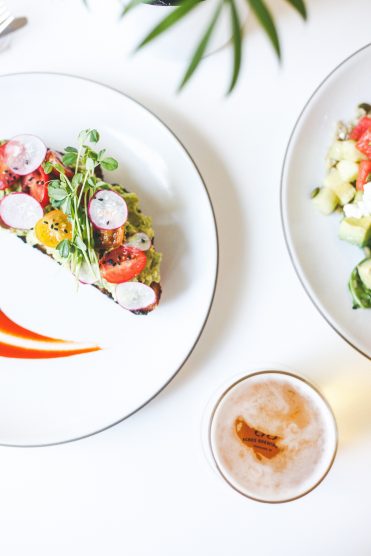 Technically yes, we know this as a brewery and not a restaurant—but 33 Acres (where, I state for the record, my partner works) serves up some rather tasty food and coffee for the weekend warrior. From the Avocado Smash (avocado, cherry tomatoes, feta, and slices of radish with the option to add poached eggs and bacon, over Nelson the Seagull sourdough), to the savoury and sweet waffles that come with infused butter or decadent sauce, the modest menu does its few things well. The waffle combinations are different every week, meaning you can go back again, and again. And again.
The Always Sunny: Cabrito
Fans of eggs Benedict, consider this your public service announcement: Spanish tapas restaurant Cabrito (from the same team behind Lebanese folk spot Jamjar) serves up the Benny in some pretty interesting ways. There's the Artichoke Benny, made with piquillo pepper, toasted hazelnuts, and hollandaise, or the Albondigas Benny, which comes with chorizo meatballs, piquillo sauce, and smoked paprika hollandaise. Those less inclined to go for rich sauce should consider the scrambled eggs and Iberian ham on toast with roasted fingerling potatoes, or the Txistorra & Eggs (Basque chorizo baked in a skillet with sunny side up eggs and caramelized onions). If feeling a little rough from the night before, never fear—also available is a hot dog and a burger.
See you at church this weekend.
---