Thanks to innovative local chefs, vegans and non-vegans alike can now find a growing number of tasty plant-based dishes in Vancouver. And what many of these dishes have in common is a big boost of umami—that undefinable savouriness associated with meat, fish, and cheese dishes. But umami also occurs naturally in mushrooms, fermented foods, and vegetables such as potatoes, corn, and tomatoes. With a growing understanding of how umami works without the help of animal proteins, and a determination to infuse passion into their vegan creations, chefs are increasingly creating vegan dishes with intense flavours that are satisfyingly rich and complex. Lucky for us—Vancouver recently overtook Toronto as the Canadian city with the most vegan restaurants per capita.
We visited our favourite vegan and meatless venues in Vancouver to find the umami-packed dishes you crave—whether you identify as vegan or not.
Do Chay: Coconut Rice Cakes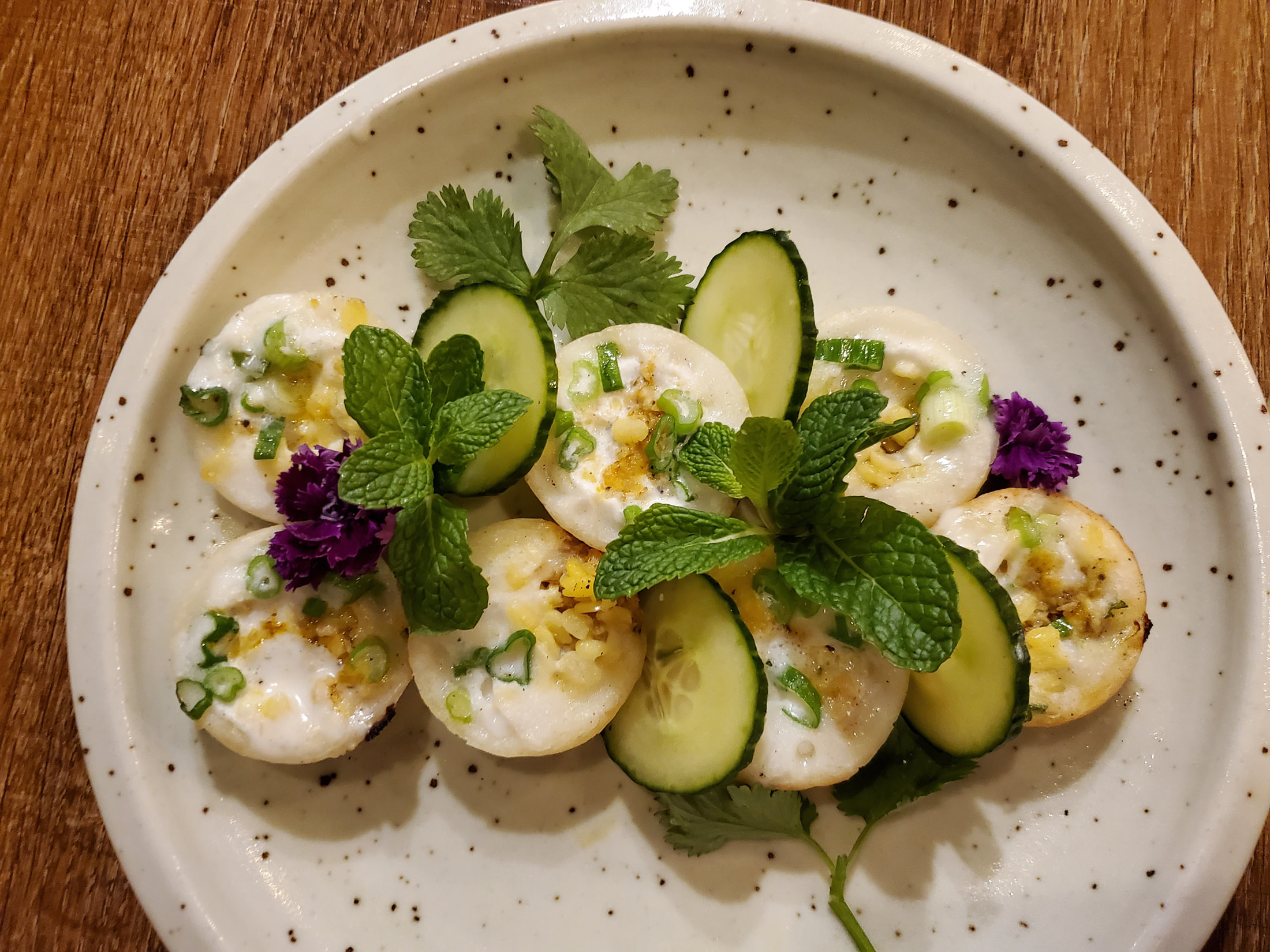 Located at the corner of Kingsway and Knight, Do Chay, which means vegetarian things, serves a plant-based version of Vietnamese cuisine from an almost entirely vegan menu. Co-owner Patrick Do says his family started experimenting with plant-based ingredients after his father became vegan. Many of their innovations can now be found on Do Chay's menu, including the popular (and addictive) bánh khọt, or coconut rice cakes, inspired by Vietnamese street food. Baked inside custom cast iron molds for eight to 10 minutes, the cakes come out crunchy on the outside while the inside remains soft and creamy, releasing a burst of warm coconut milk in the first bite, with lingering notes of savoury radish, crisp green onion, and fermented mung beans.
Add a layer of sweet and sour flavour by gently dipping each cake into the accompanying "ish" sauce—taking care not to soak for too long to avoid losing the cake's intended crispness. And be sure to try the Kabocha Curry Bowl for a hearty, warming meal on a cold Vancouver day.
Virtuous Pie: Stranger Wings Pizza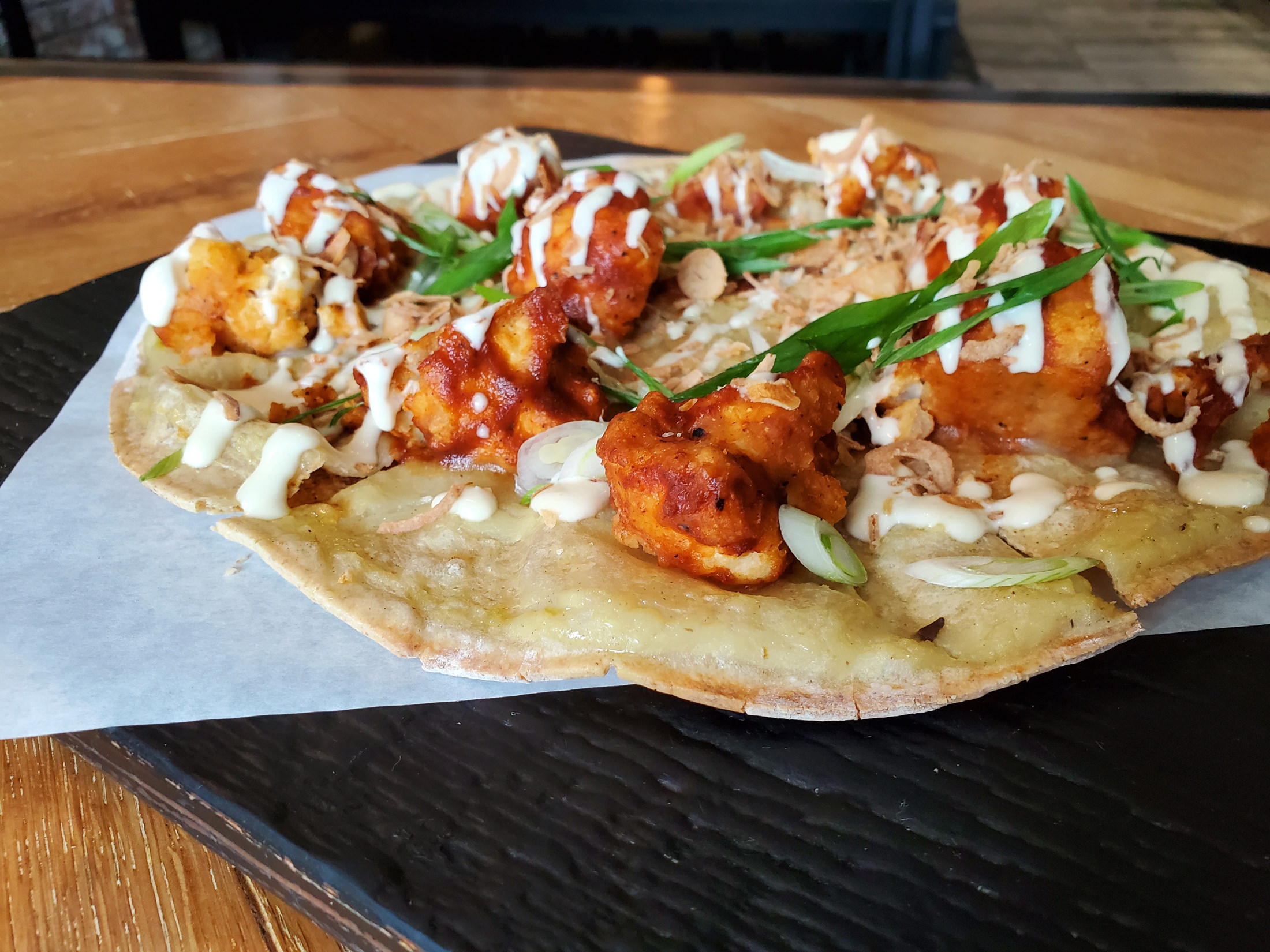 While creating the recipes for Virtuous Pie, culinary director Jim Vesal wanted to make veggie pizzas that would be appetizing for meat eaters too. He had yet to switch to a vegan diet himself, but had learned vegan cooking techniques while working in meatless kitchens. Instead of topping his pizzas with fake meats, he layered them with popular savoury dishes such as kimchi and buffalo cauliflower. The latter would become the key ingredient in a local favourite, the Stranger Wings pizza. Breaded with chickpea flour, the cauliflower bites are baked separately until crisp, coated in smokey barbecue sauce and sriracha, and spread over house-made dough. A sprinkling of fried shallots adds an extra level of crunch to the already crunchy thin crust, and house-made "cheeses," made from ingredients such as tahini, nutritional yeast, garlic puree, and lemon juice, provide the sharp, tangy flavour usually associated with cheese.
Kick that tanginess up a notch with a side of vegan ranch dip. And if you love the taste of mushrooms, don't miss their Superfunghi pizza. Can't decide which vegan ice cream to have for dessert? Order an ice cream flight and try three flavours at once.
Meet: Teem Poutine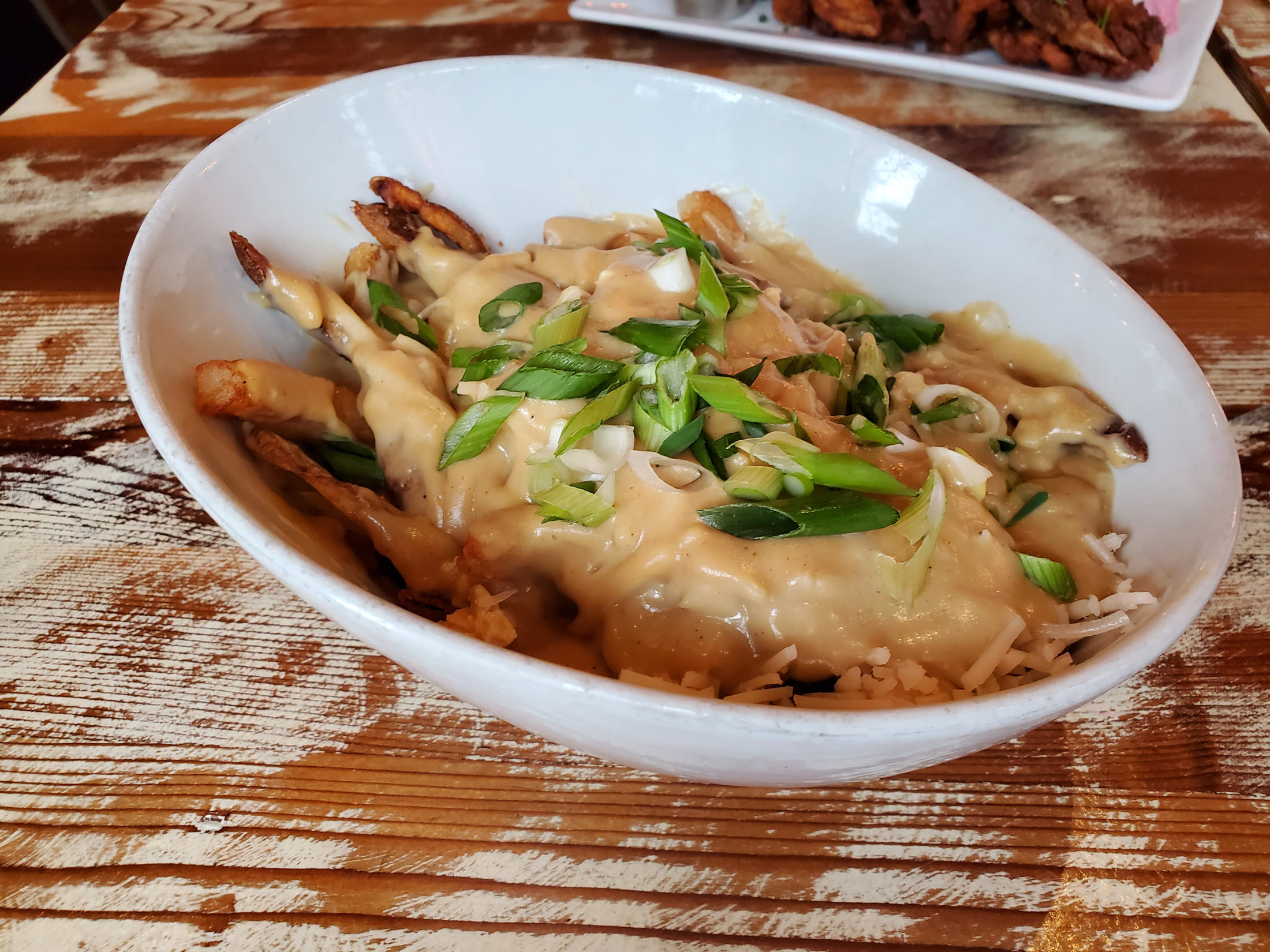 If you're craving some comfort food, try Meet  in Yaletown, Gastown, or on Main Street. Co-owner Linda Antony had already been cooking vegan at home for more than a decade after her husband Jason was diagnosed with Crohn's disease. Veganism turned out to be the best way to manage his health, but Jason still got cravings for comfort foods, so Linda worked hard to find vegan umami-rich options that would help curb those cravings while still allowing Jason to heal. Her research proved integral to many of the dishes at Meet, including its update on a Canadian favourite, the Teem  poutine, whose crisp, golden fries are topped with a gravy made rich and creamy from cashews and miso paste. An excellent alternative to meat-based gravy, the miso fills you up without leaving a heaviness in your stomach.
If you're still hungry, try the Angry Burg, a beer-battered burger that combines the delicious flavours of buffalo sauce, sriracha, and creamy avocado. Wrap things up with a slice of lemon tart—lightly sweet, just the right amount of sour, and refreshing to the palate.
Chomp Vegan Eatery: Chomp Sliders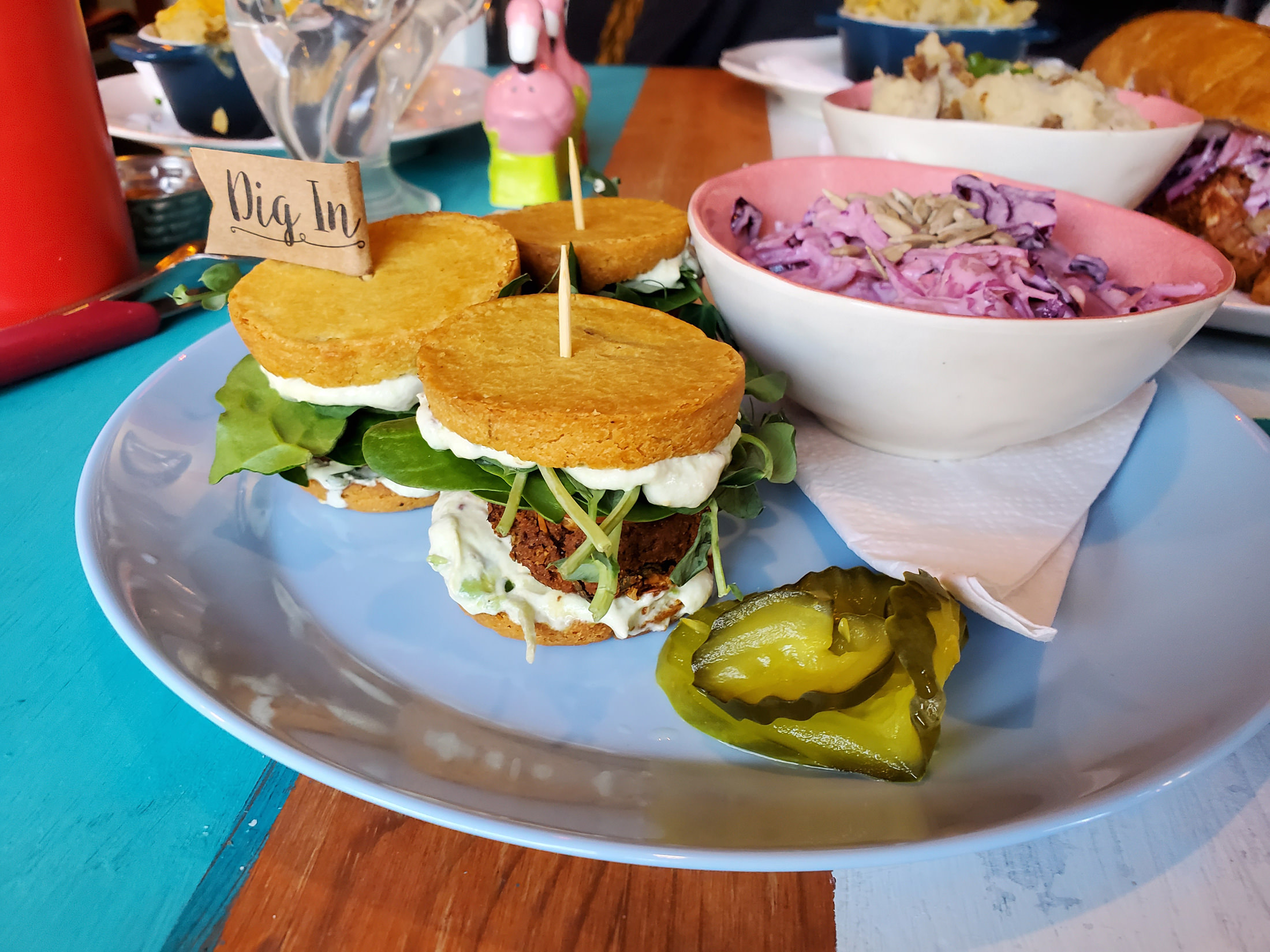 Relocated from the Tri-cities to Hastings Sunrise, Chomp Vegan Eatery is a cozy space with a colourful, eclectic decor that matches its creative menu. Having worked in the food industry for many years, owner Vanessa Mills translated her passion for food into inventive vegan and gluten-free dishes, such as her Chomp sliders. While meat-based sliders tend to rely on the patty for their savoury flavour, Chomp's sliders contain layers of umami down to their sweet-potato buns. Shaped with rice flour and seasoned with a house blend of spices, the baked sweet potato buns provide a solid, satisfying crunch. The tender white-bean patties are topped with classic, earthy vegan flavours, such as pea shoots and spinach, and a soft, creamy sauce of avocado, basil, and garlic.
If you're looking for warm comfort food, try the Baked Mac n' Cheesy, which does an amazing job of replicating that satiating sense of dairy and gluten, despite containing neither.
Chickpea: Latkes Benechick with Carrot Lox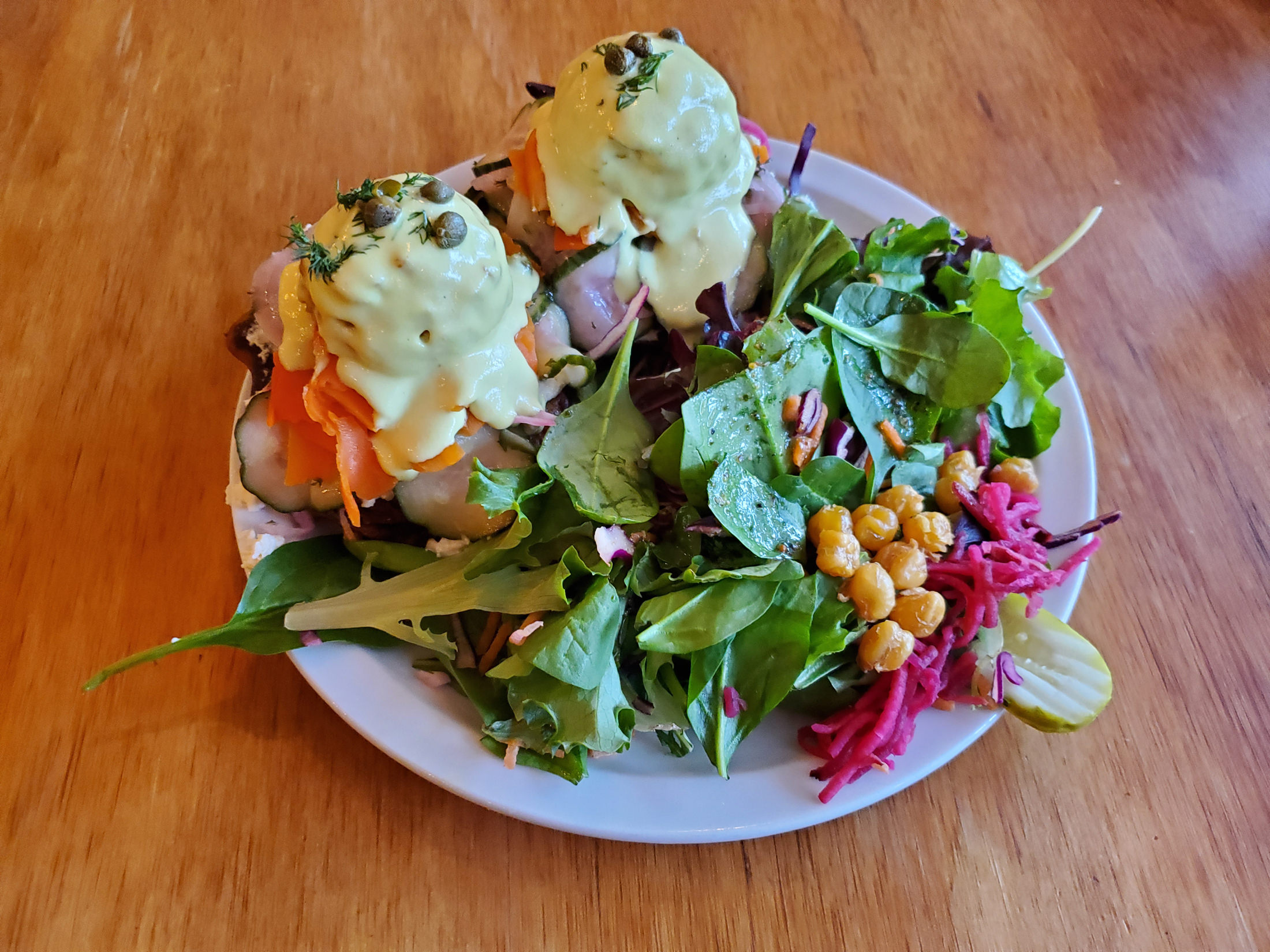 True to its name, Chickpea on Main Street serves a delicious array of chickpea-based dishes inspired by Mediterranean cuisine. Highlights include their chickpea fries—best enjoyed with mango amba and tzatziki sauce—and fluffy chickpea waffles with your choice of sweet or savoury toppings.
And don't miss the Latkes Benechick, whose fritter base of potatoes, zucchini and dill is topped with slices of full-bodied vegetables such as carrot lox. Smoked and then baked until tender, the thin pieces of carrot successfully recreate the tanginess and texture of brined salmon fillet. While the latke base is layered with the Jewish foods of owner Itamar Shani's youth, his wife inspired the vegan eggs benedict on top. The texture doesn't hide that the "egg" is made from tofu, but a hint of eggy aftertaste still follows the creamy Hollandaise sauce, and the accompanying labaneh  "cheese" is fermented twice for a convincing, cheese-like experience. There are so many layers of flavour here, you won't be able to taste them all in just one bite.
For a final taste of Mediterrenean cuisine, try the Hatzil Baladi, a smokey, flame-charred eggplant dish that comes loaded with garnishes and pairs perfectly with the house-made hummus.
Arbor: Southern Fried Artichoke Sandwich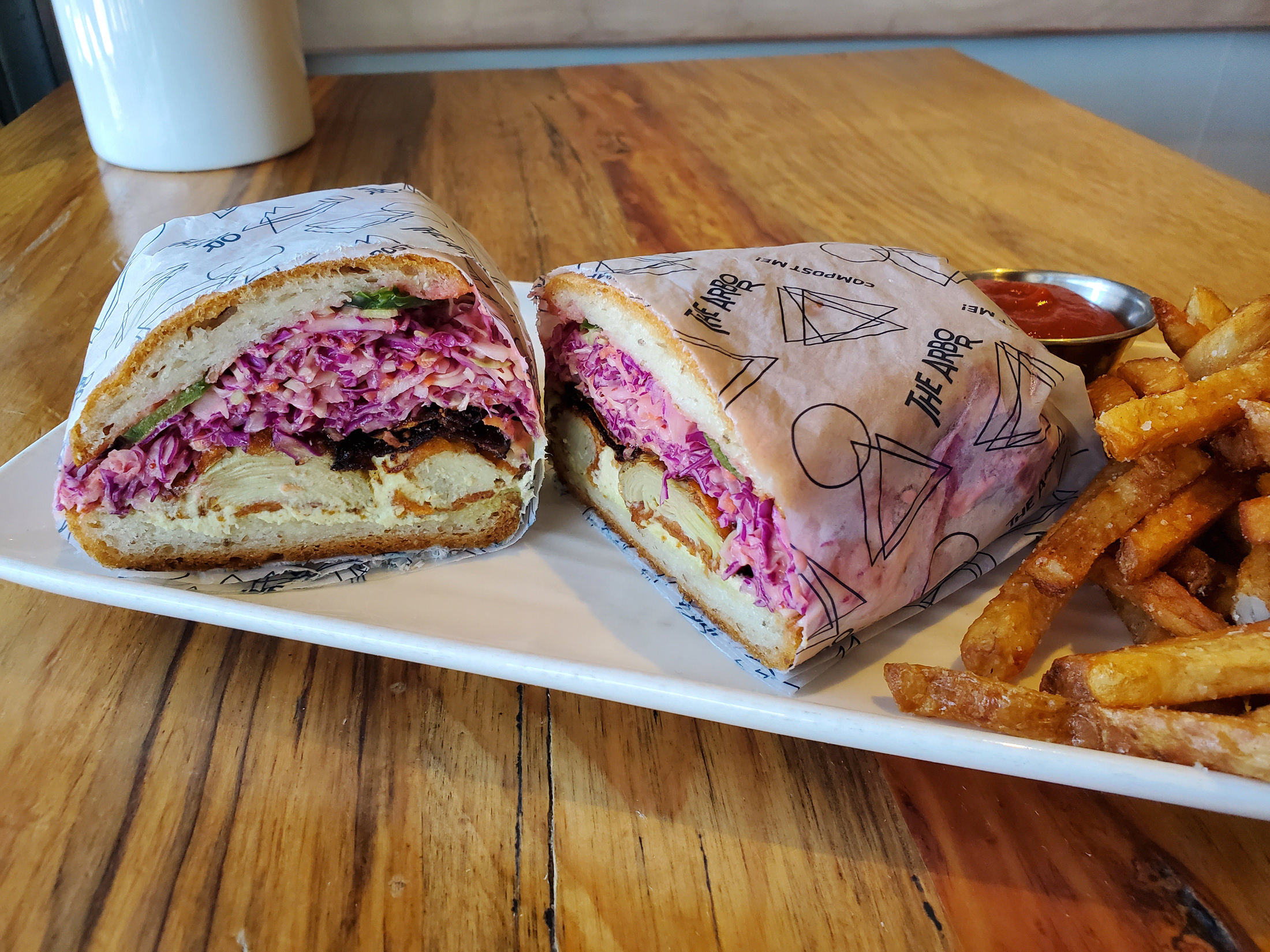 Following the success of the Acorn, Main Street's internationally acclaimed restaurant for upscale vegan dining, co-owner Shira Blustein opened a second restaurant called the Arbor to provide a more casual dining experience. Unlike the Acorn's changing seasonal menu, the Arbor has a more permanent selection of savoury dishes, inspired by mainstream popular favourites but made from scratch using fresh, locally sourced vegetables. Arbor's Southern Fried Artichoke sandwich, featuring deep-fried artichoke hearts, doesn't attempt to taste like poultry but still provides a savoury, meaty texture, while the habanero-infused mayo and slices of jalapeno give the sandwich a spicy kick. A slice of eggplant, smoked and cured in a mixture of sugar, salt, and pepper, provides the crunchy, salty taste of bacon, minus the grease. And the tangy hazelnut cheese on the vegan version of the sandwich evokes a traditional fast food experience.
If you're craving more fried food, try the addictive fried oyster (mushrooms). Lightly battered and delicately salted, the mushrooms are so light on the tongue they almost seem baked, not fried. And if the fries seem extra crispy it's because the potatoes were fermented before they hit the fryer, creating a double-fried-like effect. Complete your meal with a perfectly airy chocolate mousse parfait.
Honourable Mention
Vegan Pudding & Co: Crème Brûlée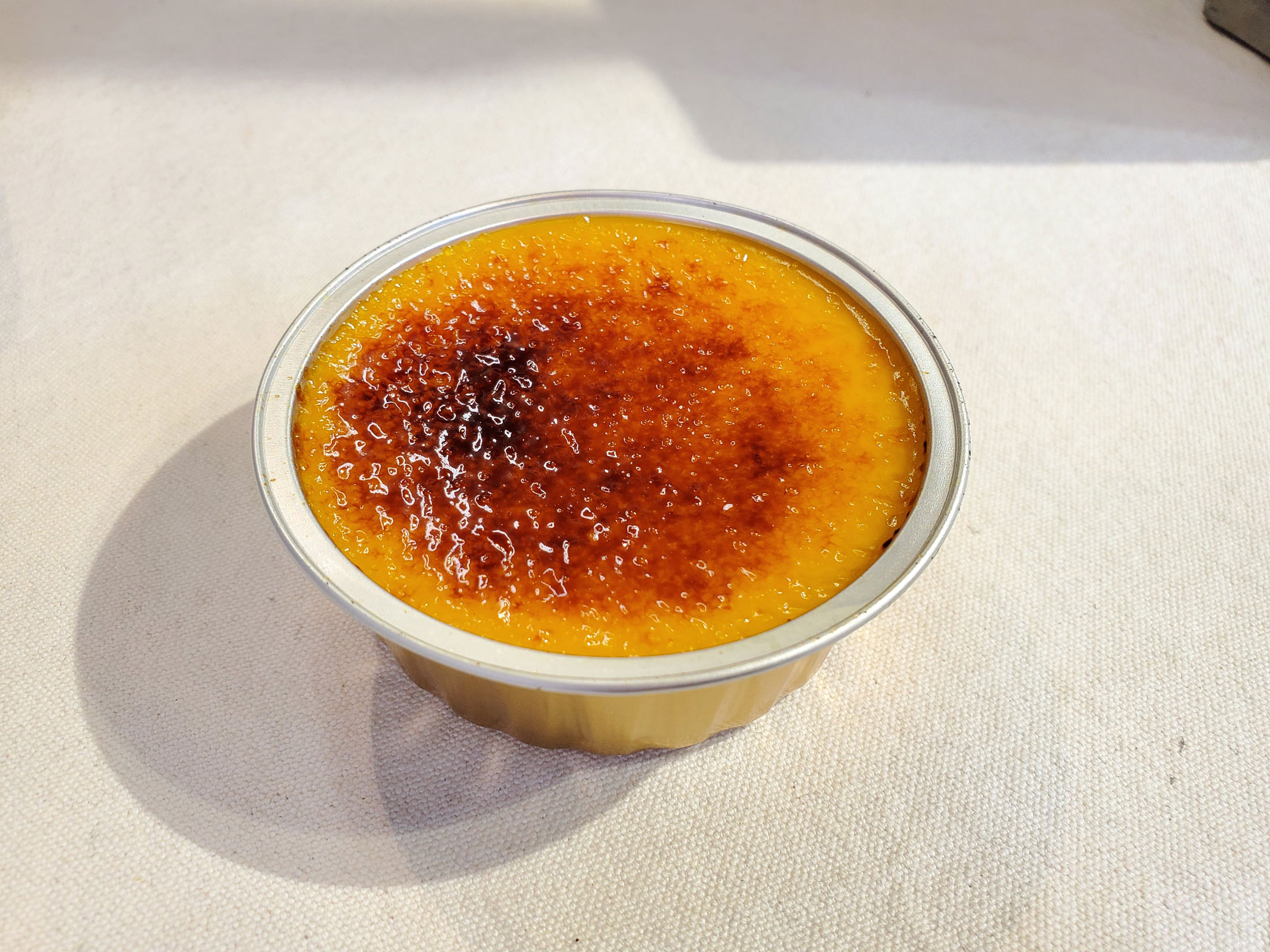 If you've spotted a small downtown window counter selling pudding and soup on Richards Street, you know you've found the Vegan Pudding & Co. Co-owner Hiro Takayama began making pudding after her husband Sora became vegan and found that he really missed the Japanese custard dessert, purin. Having studied various cooking techniques while the couple travelled the world for several years before settling in Vancouver, Hiro started using kabocha squash, a common ingredient in Japanese cooking, as the base for both her vegan puddings and their top seller, the vegan crème brûlée. The desserts share a texture similar to the creaminess of pumpkin pie, which should come as no surprise since kabocha is also known as the "Japanese Pumpkin." While both puddings and crème brûlée are sweetened with simple ingredients such as coconut and maple sugar, what makes the crème brûlée really stand out is its caramelized top. Their pudding is now sold in local markets, including bigger names like Whole Foods and T&T, but swing by their downtown kiosk to get some coconut whipped cream on top of your dessert.
---
Read more Food and Drink stories here.