In the main, not overly large boardroom of the Louis Vuitton offices in New York sit several scale models of various pending Vuitton boutiques, including a vast space in Las Vegas and the renovation design now underway in Vancouver. On the wall between two windows, each looking out over Fifth Avenue and 57th, is the photograph of Keith Richards taken by Annie Liebovitz as part of yet another intriguing Louis Vuitton advertising campaign. Entering the room, espresso on a tray following him in, is Daniel Lalonde, a man who knows a thing or two about brands, specifically about luxury brands, and how they work.
Mr. Lalonde is Canadian-born, but moved to Europe when he was just turning 20. He says, matter-of-factly, "I was always drawn to European culture, and to their understanding of what the word 'luxury' means. So I moved there to start my career, as quickly as possible." He has, over time, had a remarkable rise in the corporate ranks, first really making a name for himself at Häagen Dazs, then, even more notably, at Nestlé Nespresso. "I thought back then, of Nespresso as the Louis Vuitton of coffee." He was chief operating officer for that company, "when a common friend put me in touch with key executives from LVMH [Louis Vuitton Moët Hennessy] and soon after, I accepted my first role as president and CEO of LVMH Watches & Jewelry." This was a fortuitous development, giving Lalonde a new, more expansive arena in which to apply his skills and insights into luxury brands and how they work. "I have always believed that understanding a brand is an ongoing learning process. It cannot be allowed to get stagnant." That approach has paid dividends, certainly.
His first big task at LVMH Watches & Jewelry included the TAG Heuer brand, which, at the time, was lagging in sales. One of Lalonde's insights was that in North America, a segment of the population that had disposable income and a certain amount of leisure time was the golfing community, and he chose to market TAG Heuer to that segment. Hence the Tiger Woods ad campaign, which brought some truly remarkable sales results. Still, the ad campaign was not the real engine that drove TAG's success. "I personally visited as many retail situations as was physically possible, searching for the right combination of exposure, service levels and markets for the brand. It seemed to me to be overexposed, and therefore a bit tired in some areas, and invisible in others. So we recommitted to a comprehensive retail strategy. It seemed to work."
"This brand has an extremely long-term vision. It is now 150 years in length, and in some ways we look at the next 150."
That is crucial to Lalonde's career, and what makes him so valuable to LVMH. It is not only about glamour, style and brand awareness. It is also about a well thought-out business plan, which is synchronized with the brand's overall appeal and what its image should be moving forward. "For me, a brand's core values have to be clear, and clearly articulated in any marketing efforts," he says. "Creativity in a campaign is not for its own sake, but everything we do must be true to the brand, to its DNA. That is true for Louis Vuitton, certainly."
Mr. Lalonde was, for some time, the president and CEO of Louis Vuitton North America. This July, he was named president and CEO of Moët & Chandon and Dom Pérignon worldwide—yet another step up a rarified ladder. But his career is marked by a remarkable, and remarkably consistent, understanding of how brands function in the world, and the focused, hard work it takes to sustain or grow a brand. "For Louis Vuitton, such an organic brand, iconic, we wanted to refocus, on travel. That is what the brand was originally all about. Our Core Values campaign was an ideal way to explain that to the public. Craftsmanship, a strong value equation—all part of it as well." That, and another insight, on its face fairly simple, but crucial to keeping brand awareness fresh and vital: "We hire the right people to convey our basic message, and our clients then become return clients, and really, our employees, in a way. Our retail operations must be consistent, all over the world, so that the message is clear."
Nothing is taken for granted. "Customers understand the brand very well in some parts of the world," he says, "but in some markets, we need to tell the message a little more. While there is a global feel to the brand, in some places we need to draw that out a little more clearly."
Large media events and celebrity campaigns are a part of the strategy, since they have what Lalonde terms "high media value". Three astronauts—Buzz Aldrin, Sally Ride and Jim Lovell—were part of the 2009 Core Values campaign, also photographed by Annie Liebovitz. The campaign launch event, attended by the astronauts, was a success, but the key was that the link between reliability, history and of course, travel, was so clearly made, without overselling the point. Unique, yet consistent with the brand; always crucial in Lalonde's mind. He still sees challenges for the ready-to-wear line, for shoes, and for watches. "For Louis Vuitton [watches], we have a manufacture in La Chaux de Fonds [in Switzerland], today; this is a new metier for the brand, just as was Marc Jacobs, when he joined the brand as creative director in 1997. They are a focus for the brand as it moves forward." That become a part of the story, and fully consistent with the Louis Vuitton brand.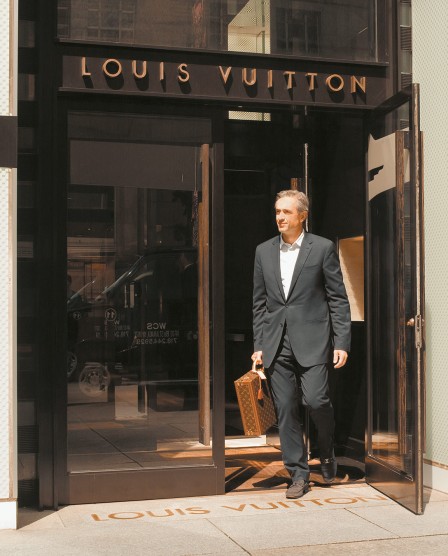 Mr. Lalonde sits back, the espresso long since gone. "This brand has an extremely long-term vision. It is now 150 years in length, and in some ways we look at the next 150." It is an interesting thought, since it implies no rash moves, no impulsive reactions to trends, which emerge and dissolve so frequently in the world of fashion. "Our answer is very simple, in terms of marketing strategy; we are on a continuum."
He notes with distinct pleasure that "the global store that will open in Vancouver this autumn is a significant part of the overall plan." As with all things pertaining to the brand, and to the dedicated stores that present the products, this will be a special event, carefully orchestrated, celebrating Louis Vuitton's presence in this community. It is also one of the last key projects overseen by Mr. Lalonde in his role as president and CEO of Louis Vuitton North America.
The Vancouver boutique, which first opened in the Hotel Vancouver in 1996, will be expanding this year to occupy two levels within the hotel. The new store will feature the complete product offering—including men's and women's ready-to-wear, leathergoods, shoes, watches, fine jewellery and accessories—making it Louis Vuitton's newest Maison, one of only four in North America. As a Maison, it will feature the newest concept finishes, a private V.I.P. room, a bag bar highlighting the latest leathergoods, and a display wall featuring rare and exceptional fashion show collection pieces and exotic leathergoods, all in addition to a commissioned installation by renowned Vancouver artist Steven Shearer.
As Mr. Lalonde prepares to take the lead on another brand known the world over, it is interesting to note that his challenge is not so much about learning a new industry. Rather, it is about applying what he already knows about brand awareness to a product that is many things to many people, and trying in the course of that, to understand what the DNA of Moët & Chandon and Dom Pérignon is. From there, the decisions about advertising, events and retail presence will fall into place, and if the past is any indication, we could well see some innovative story telling and a comprehensive, long-term vision for Moët & Chandon and Dom Pérignon. Coffee, ice cream, fine watches, travel bags, and the most iconic champagnes in the world: all parts of the same coherent firmament for Daniel Lalonde.
Grooming: Jenny Kanavaros.