Chef Warren Barr is standing in the kitchen of the Chesterman Beach loft suite at The Wickaninnish Inn in Tofino, stirring a truffled cauliflower "risotto." Outside, a storm is slowly building; rain lashes against the windows and waves crash onto the beach, leaving a trail of tangled bull kelp seaweed, while mist swirls around the jagged rocks. Ravens swoop between trees, and somewhere out at sea, orcas trace elegant arcs, chasing fish. Meanwhile, in moss-covered island rainforests, woodsy mushrooms pop up in plentiful patches. When Barr presents the finished dish—made with Vancouver Island cauliflower—it is easy to taste the terroir, delivering the wild outdoor landscape onto the plate.
Snug indoors, Barr is cooking from the Relais & Châteaux property's gorgeous new book, The Wickaninnish Cookbook: Rustic Elegance on Nature's Edge (published in May 2018), and talking about the joy that a collector such as himself finds in discovering new worlds within recipes. And it's not just armchair adventures that such products inspire; there's a storied tradition of destination cookbooks driving foodie travel, both around the world and right here within British Columbia. Hollyhock Cooks: Food to Nourish Body, Mind and Soil (2003) and Hollyhock: Garden to Table (2013) have long compelled avid eaters to journey to the remote Cortes Island resort to dine al fresco on its scenic deck, sampling its famed cornbread and salad with signature yeast dressing. And the pioneering Whitewater Cooks series has introduced countless adventurers to the rootsy mountain comfort food on offer at the famed Whitewater Ski Resort in Nelson. Its latest installment, Whitewater Cooks More Beautiful Food, spent 51 consecutive weeks on the B.C. bestseller list in 2018.
Now, gourmets across the globe can feast on the whimsy and wonder available in Tofino, too. Flipping through The Wickaninnish Cookbook's page after page of culinary delights (think Dungeness crab and mascarpone ravioli in saffron pasta; duck confit potato press; and carrot cake petit fours), readers will find themselves ready to make the pilgrimage to the outer reaches of Vancouver Island. There, they can watch the sun slip over the horizon at The Wick's fine-dining restaurant The Pointe—revelling in glazed steelhead salmon, mushroom teriyaki, and squash-and-smoked-salmon agnolotti in kelp butter—and take shelter from the morning downpour at the Driftwood Café, snacking on freshly-baked scones with clotted cream.
"Tofino is at its best when it's kind of rainy and drizzly, and there are big waves coming in, and swells," says Barr, who left his post at The Wick in January 2019 to open a restaurant in Ucluelet. "Hopefully the book gives people a really good sense of what's out here."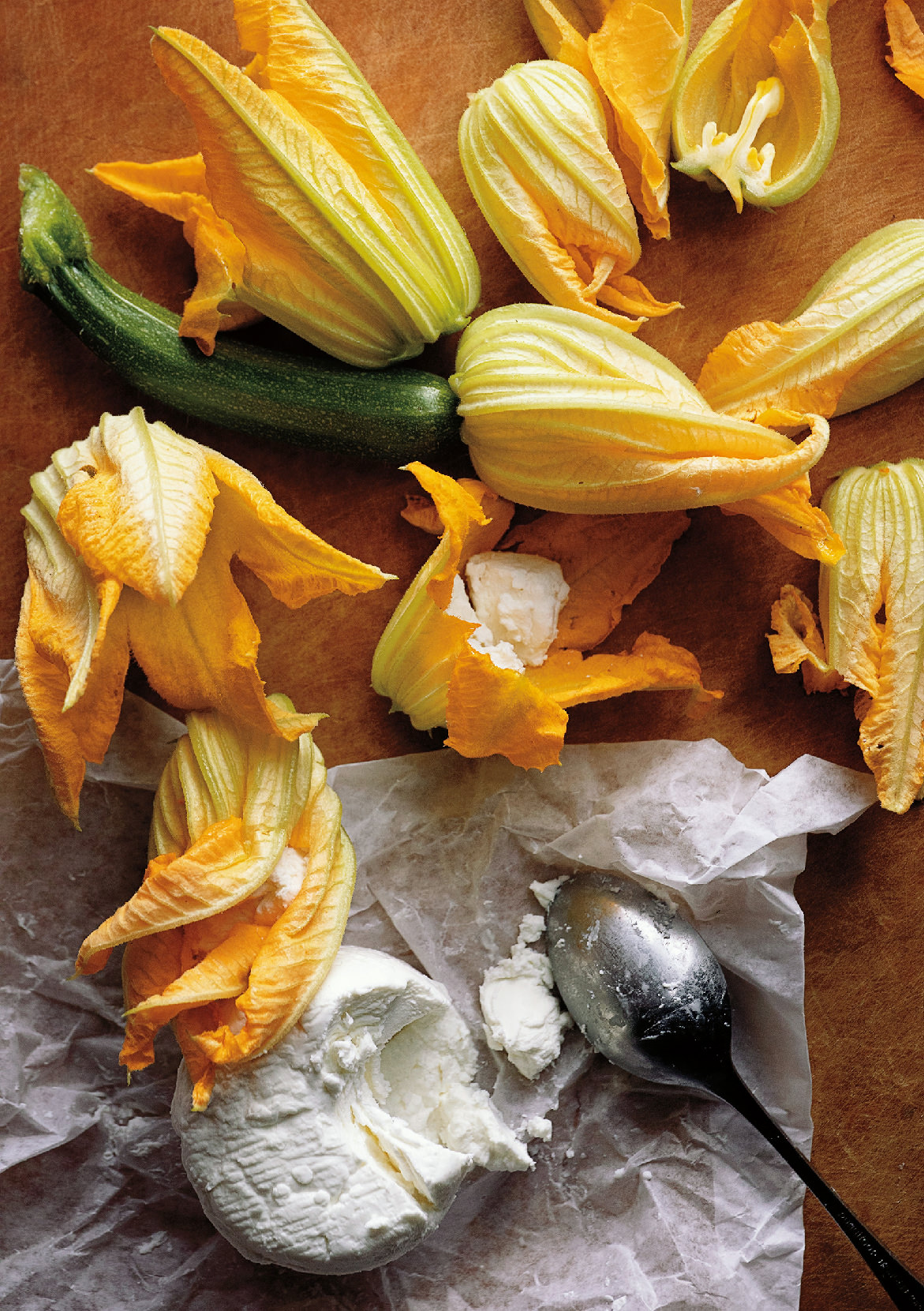 Meanwhile, over on Salt Spring, another kind of foodie destination is growing. Here, in the Gulf Islands' sunnier climes, find Haidee Hart stuffing squash blossoms with Salt Spring Island Cheese Company chevre in her cozy home kitchen on the sprawling Stowel Lake Farm, about to fry the zucchini flowers in early-harvest, biodynamic olive oil from a small family operation in Spain. She is the resident chef at this slow-living farm, run by long-time pals Elizabeth Young and Jennifer Lloyd-Karr, and Lloyd-Karr's mother Lisa Lloyd. The property is a popular destination for retreats, and it's becoming as famous for its farm-fresh fare as it is for its eclectic programming and innovative business approach. Aside from providing an inspiring model for communal living, Stowel Lake offers extensive gardens, shared barn kitchens, and a farm stand—plus idyllic lodging and an airy gatehouse for yoga, meditation, and wellness gatherings. Four families live and work together here, alongside farmers and others, dining daily on nature's bounty.
Taking a break from food prep, Hart peruses her extensive cookbook collection, which now includes Seven Seasons on Stowel Lake Farm: Stories and Recipes that Nourish Community, a 2018 collaboration between its dynamos. The beautifully-illustrated book is chock-full of recipes for each distinct season in this fertile microclimate: early spring, late spring, high summer, late summer, autumn, December, and deep winter. There's a hearty zucchini basil soup, for starters, along with a drool-worthy blueberry lemon cake. Hart, a self-taught chef, says she is inspired by the abundance on the farm. It's a ritual for her to rise at dawn each day and savour her coffee up the hill in the communal kitchens, going over the harvest with sleepy farmhands.
As dusk hits this evening, her community gathers around a table on her home deck, plates piled with crispy smashed Yukon golds dug up fresh from the garden, as well as ratatouille with farm leeks, eggplants, tomatoes, and peppers, and a crusty loaf to dip into the juices—plus grilled wild sockeye with a sauce vierge, and heirloom head lettuce dressed in cream, oregano, and chives. Later, under the starlight, a flourless dark chocolate olive oil cake proves so astonishingly good, this author will dream about it for weeks to come. And begin planning a return trip.
---
Get your copy of our Spring 2019 issue here.