Pierre and Justin Trudeau. Morgan Freeman. Tori Spelling. Neil Diamond, Mike Weir, Steven Seagal. Justin Timberlake.
It is a hodgepodge of famous people, running the gamut from politics to music to golf. Aside from their celebrity, this group might not have a lot in common—except that they are all immortalized in paper-sized photographs protected in plastic binder sheets, standing next to the same man: Hidekazu Tojo.
Chef Tojo is a legend, to say the least. He is celebrated around the world for his quality Japanese food that puts Western twists on traditional dishes and techniques. He has been on NBC's Today Show, he has been recognized by Distinguished Restaurants of North America, and he has been appointed a Goodwill Ambassador for Japanese Cuisine by the Japanese government—making him one of only 13 in the world.
But right now, a jovial Tojo is sorting through a large and jumbled pile of photographs in his small office that sits above his iconic restaurant. Guns N' Roses. The cast of Baywatch. The king of the Netherlands. Finally, he finds what he is looking for: an issue of a Japanese magazine published in 1989. He flips to a bookmarked page and sets it down. "Tojo's opened 1988, and the next year they're talking about Vancouver sushi," he says of the magazine article. Depicted in a photograph about Tojo's is a bowl of spicy tuna and a Rainbow Roll—two dishes that Tojo says he introduced to the world. Though most of the world doesn't know that.
Tojo is not the conceited type, but he is a man of truth and conviction. He might be known in food circles as the chef who invented the California Roll, but his contributions to sushi culture stretch much farther. And here, right in front of him, is the proof.
"I don't want to copy. I like to make my own food," he says emphatically. "In this city, many restaurants have similar food. That is bad manners."
Certainly, Tojo became famous by doing things his own way. Born in Southern Kagoshima, Japan in 1950, he grew up in a household with a pescatarian mother and a father who only ate chicken. But at school, a young Tojo saw classmates eating a wide range of meat and seafood. "I wanted to eat this stuff at home, so they said, 'Ok, if you want to eat meat, you cook it yourself,'" he recalls of his parents. "We have a big family, and after school, my activities were cooking dinner. Cooking, cooking, cooking, every day, every day. Everybody said, 'It's good.' Family and visitors said, 'Wow this is excellent, delicious. You are good.' They were happy." He was only 12 or 13 at the time, but he had already found his calling.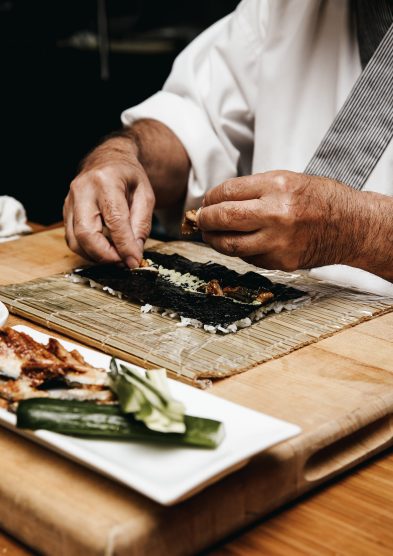 Despite being teased by kids at school because he was a boy doing what they thought was a girl's job, Tojo persevered. "I'm a very powerful guy, a fighter," he says with a smile. After high school, instead of going to university, he moved to Osaka to become a chef, training at a renowned ryokan (Japanese inn) called Ohonoya. But his goal was always to leave the country, a place he felt was full of "suffering" at a cause of the Second World War. One day, the perfect opportunity arose: a Canadian woman was looking for Japanese chefs to work at her restaurant in Vancouver. Tojo jumped at the chance, moving to Vancouver in 1971, when he was 21.
He began working at Maneki in what was once Japantown (and is now considered Railtown), and when his contract was up a few years later, he returned to Japan. "I went back to Osaka and realized, 'Oh, I don't want to stay here, I want to go back to Vancouver,'" Tojo recalls. "Then I decided to stay in Vancouver: 'Now I must make for local people, the Canadian market." Canadians in the '70s weren't all that open to Japanese food beyond tempura, being turned off at the thought of eating raw fish and seaweed. So the ever-clever Tojo, who had taken a job at Jinya in Vancouver, created a solution.
"I'm a fighter, a big fighter," he says of his determination to make Canadians like sushi. "I think, 'Ok, they don't like seaweed. Maybe hide it.'" And so, the ubiquitous rolls we see today with rice on the outside and seaweed on the inside were born. When Jinya closed in 1987, Tojo decided to strike out on his own. A year later, Tojo's opened at 777 West Broadway, and it moved to its current home at 1133 West Broadway in 2007.
At his own restaurant, Tojo has continued his experimentation, pushing the boundaries of Japanese cuisine. "The sign says Tojo's. It doesn't say Tojo's Japanese Restaurant or Tojo's Sushi," he says. "If it says Tojo's Japanese Restaurant and then I make this,"—he points to a table sign advertising a specialty roll made with quinoa instead of rice—"someone says, 'Oh, that's not Japanese food.' I like more freedom. So: Tojo's."
The wild success of his first restaurant, still very much a must-visit for tourists, locals, and celebrities, begs the question of why he has never opened a second establishment. But those who wonder where his empire is don't really know Tojo.
"When I came to Canada I wanted Tojo restaurants everywhere. Everybody wants that," he says. But then he read Kaseki (The Fossil) by Nobel Prize in literature candidate Yasushi Inoue. "His philosophy is very good: if you become very rich, you are a competitor, you're kicking," Tojo continues, jerking is right leg in a downward motion, as if he is pushing people out of his way. "If you get to number one, you're kicking out many other people. Even if you are a good person, you must be kicking." But that is not the kind of person he is; Tojo feels there is room for everyone. So, he has his one restaurant, and he is satisfied with that—which is saying something, considering he has copycats all over North America. It is perhaps only in regards to his most famous creation—the California Roll—that he shows even a hint of anger. Because what others have done is not only duplicate it, but cheapen it. Instead of using real crab, as Tojo does, most places use the imitation stuff.
"That is very bad," he says. "I'm a chef. I'm not a business man. Businesspeople want profit, profit, profit. I like to make real food. Not imitation. Everything is handmade, mostly I use local ingredients. I use organic product. I'm surprised when I go to the supermarket: the cucumber has no taste. Tomato? No taste. They use chemicals. My way is real meat, no imitation." The difference has to be tasted to be believed. Simple, fresh rolls—such as the Tojo Roll with wasabi, house-made mayo, Dungeness crab, egg omelet, spinach, and avocado and topped with sesame seeds—are unparalleled in their flavour. It's authentic. It's genuine. It's delicious. It's Tojo.
---
Read more in Food and Drink.