In 2018, celebrated American chef David Chang's TV series Ugly Delicious brought new attention to the kind of cooking that might not win any awards for attractive plating, but hits all the right notes in flavour, comfort, and satisfaction. While Cantonese cuisine serves up plenty of beautiful, ornate dishes, it's perhaps best known for this kind of messy but delicious food, from barbecue to noodles to fried rice.
For our final Asian Heritage Month recipe, chef Anson Leung of Richmond's HK BBQ Master, recognized as among the best barbecue joints in the Lower Mainland, shares this homely but tasty steamed meatloaf, passed down from his mother.
"The reason why I chose this dish is because it represents my childhood memories and reminds me of my mother," he says. "This nostalgic dish provides the ultimate comfort. Almost every Hong Kong household has their own variation. "
Check out our other Asian Heritage Month recipes: fresh vegetable maki,  kimchi noodle salad, and central Vietnamese spring rolls. 
Traditional Hong Kong-Style Steamed Meat Loaf
Serves 2 to 3
Ingredients
1 pound minced medium-lean pork
1 beaten egg
100 grams squid
40 grams shiitake mushrooms
100 grams Chinese water chestnuts, fresh or canned
1 stalk green onion
3 tablespoons light soy sauce
1 tablespoon dark soy sauce (optional)
1/2 teaspoon salt
2 teaspoons sugar
1 tablespoon cornstarch
1 ½ tablespoons sesame oil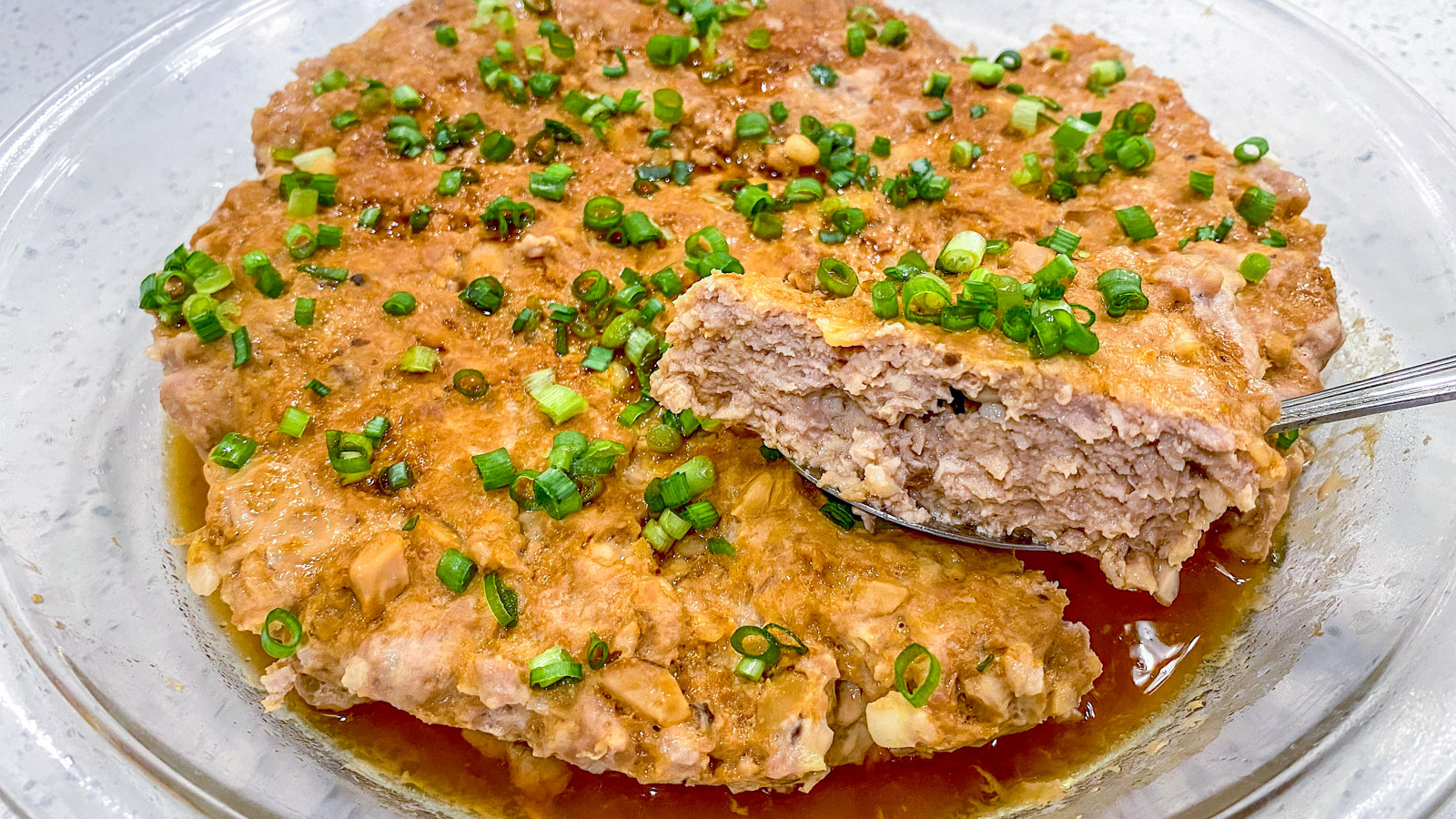 Method
If you are using fresh water chestnuts, peel the outer layer and mince. If using canned, rinse and pat dry before mincing. Set aside.
Wash the mushrooms and squeeze out any excess water. Mince and set aside. If you are using dried mushrooms, soak, squeeze out excess water, and steam for 10 minutes if not using immediately.
Wash and prepare the squid. Mince into small pieces and set aside.
To the minced pork, add sugar, sesame oil, light and dark soy sauce, salt, and cornstarch. Stir in one direction for two minutes only so that the meat loaf will be light, fluffy, and retain texture.
Add the egg, squid, mushroom, and chestnuts into the pork mixture and keep mixing in the same direction for two more minutes.
Use your hands to pick up the mixture and throw it back down into the mixing bowl repeatedly for another two minutes.
Place the mixture into a steaming dish and flatten it out evenly. Let it marinate for 15 minutes. Don't make the loaf too thick, because steaming too long will ruin the texture.
Steam for 15 to 20 minutes depending on thickness.
Sprinkle with sliced green onion to garnish.
Tips
The traditional form of the recipe uses pork collar with half-fat and half-lean for a juicy, bouncy texture. If you can't mince your own pork collar, regular ground pork works as well.
If you're not a fan of squid, you can omit it, or substitute cuttlefish paste in the same amount.
---
Read more local Food and Drink stories.