To celebrate this year's Asian Heritage Month, we asked several local chefs and restaurateurs to share their favourite recipes with our readers. From Kazuhiro Hayashi, the executive sushi chef at Miku, comes this recipe for vegetable sushi rolls. Watch for more delicious recipes throughout the month of May.
---
I love making hosomaki and uramaki rolls with my daughters. Not only is it a great way to get them to eat their vegetables, but sushi-making makes for a wonderful and easy family activity.
Maki is one of the simplest forms of sushi, but also one of my favourites because of how customizable it is. This recipe allows you to put whatever vegetables you want inside, and the sprinkled sesame seeds add an extra nutty flavour to finish.
Make sure your fingers are wet before scooping up the rice, to avoid the rice sticking to your hands. And try not to overstuff your rolls so you can get a taste of each ingredient in each bite.
Itadakimasu!
Vegetable Sushi Roll
Makes 4 sushi rolls
Ingredients
Filling: 
1 bell pepper
1 cucumber
1 avocado
¼ head of lettuce
4 spears of asparagus (boiled)
Sushi rice:
4 cups sushi rice
3 cups water
⅔ cup rice vinegar
3 tablespoons sugar
1 teaspoon salt
Other:
Black and white sesame seeds
4 pieces sushi nori seaweed
Special Tools:
Makisu (bamboo sushi mat)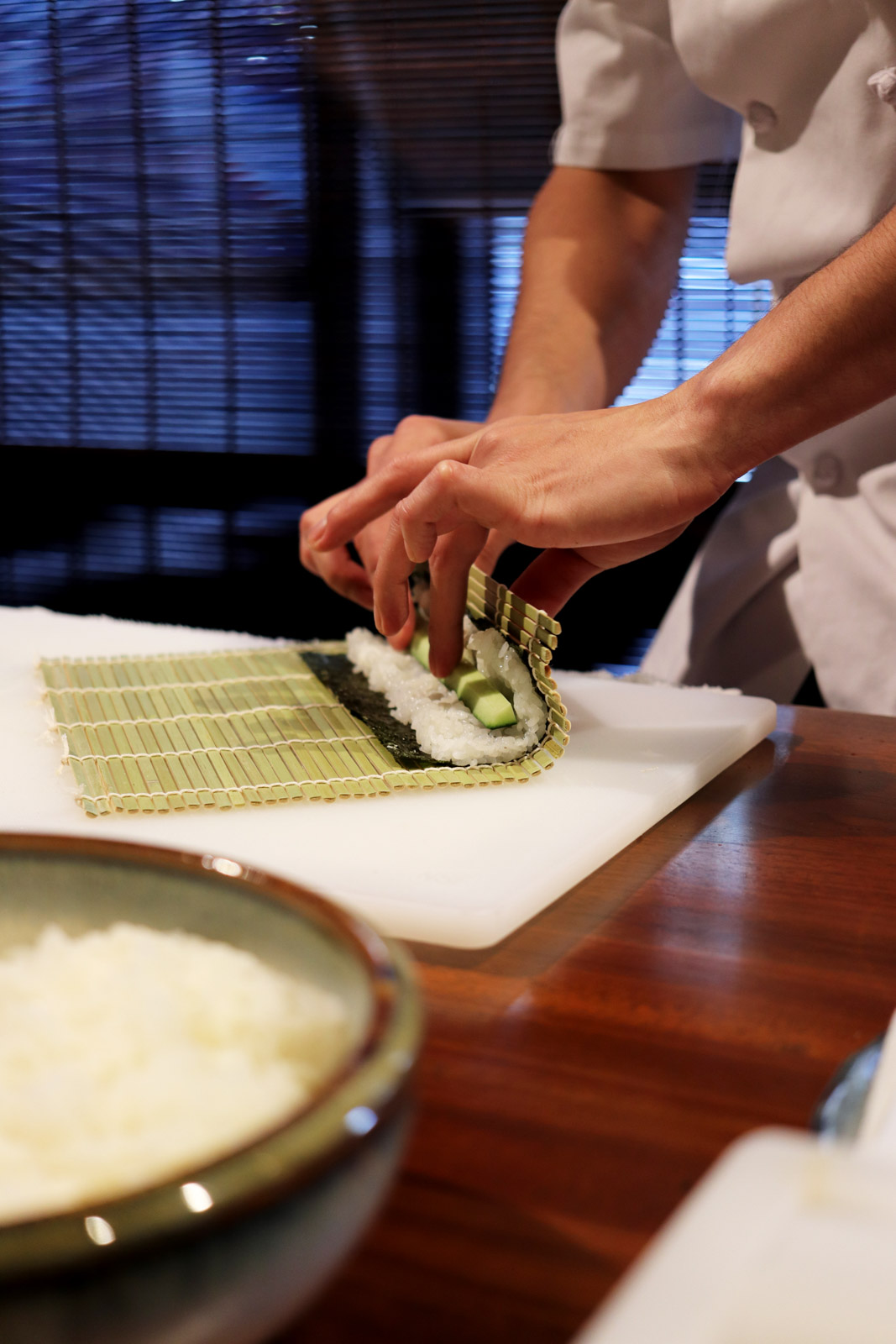 Method
For the rice seasoning:
Combine rice vinegar, sugar, and salt in a small saucepan over medium heat while whisking until sugar and salt dissolve. Do not boil. Remove from heat and put in the fridge to cool down.
For the sushi rice:
Put sushi rice in a colander, and wash gently under cold water for 15 seconds or until the water runs clear.
Combine the washed sushi rice and water in a deep sauce pan (making sure there is at least four inches between the water and the top of the pot) and bring to a boil. Cover with lid and simmer for 13 minutes.
Do not open the lid. Let rest for another five minutes off the heat.
While the rice is still hot, transfer to a wide bowl and drizzle seasoning on top while mixing gently. Do not crush the rice grains.
Set aside to cool to room temperature.
For the maki:
Julienne all of the vegetables (cut them into matchstick shapes).
Place one piece of sushi nori on the makisu (sushi mat). Spread sushi rice on the nori evenly, leaving one inch at the top without rice.
Place rows of each vegetable in the centre of the rice.
Roll from the bottom of the mat to the top with even pressure and squeeze to seal.
Roll the sushi roll in a container filled with the sesame seeds, creating a thin even layer on the outside.
Cut into eight even pieces.
---
Read more recipes from local chefs.