Growing up in an Italian household in Vancouver, Maria Fazzari Larosa spent hours watching her mother lovingly prepare the dishes of her own youth in the Southern Italian region of Reggio Calabria.
From the traditional baccala of Christmas Eve (prepared two ways) to the tasty fritters made with summer zucchini harvested from her late father's abundant vegetable garden, the dishes of her parents' original homeland in the toe of Italy's boot infused the household and heralded the seasons.
"My mother prepared the simplest, most delicious authentic southern Calabrian Italian meals," Larosa says.
The passion her mother has always poured into her cooking awakened a similar devotion in her daughter. In her new cookbook, Larosa pays tribute to her mother with her first collection of 78 treasured family recipes, while bringing her own love of cooking—and connecting family and friends through food—to a new level.
Larosa has particularly fond memories of her mother's Calabrian stuffed eggplants, typically prepared in September to honour San Nicodemo, the patron saint of her parents' hometown of Mammola.
"Frankly I can think of no other dish that has so much meaning to me," she says. "I didn't quite realize the importance of these eggplants until I started preparing them myself. I know it sounds cliché, but nobody makes these melanzane ripiene alla calabrese like my mother, Rosa."
In this excerpt from her new cookbook, Maria's Italian Cucina, reprinted with permission, Larosa shares her recipe for her mother's stuffed eggplants. Buon appetito!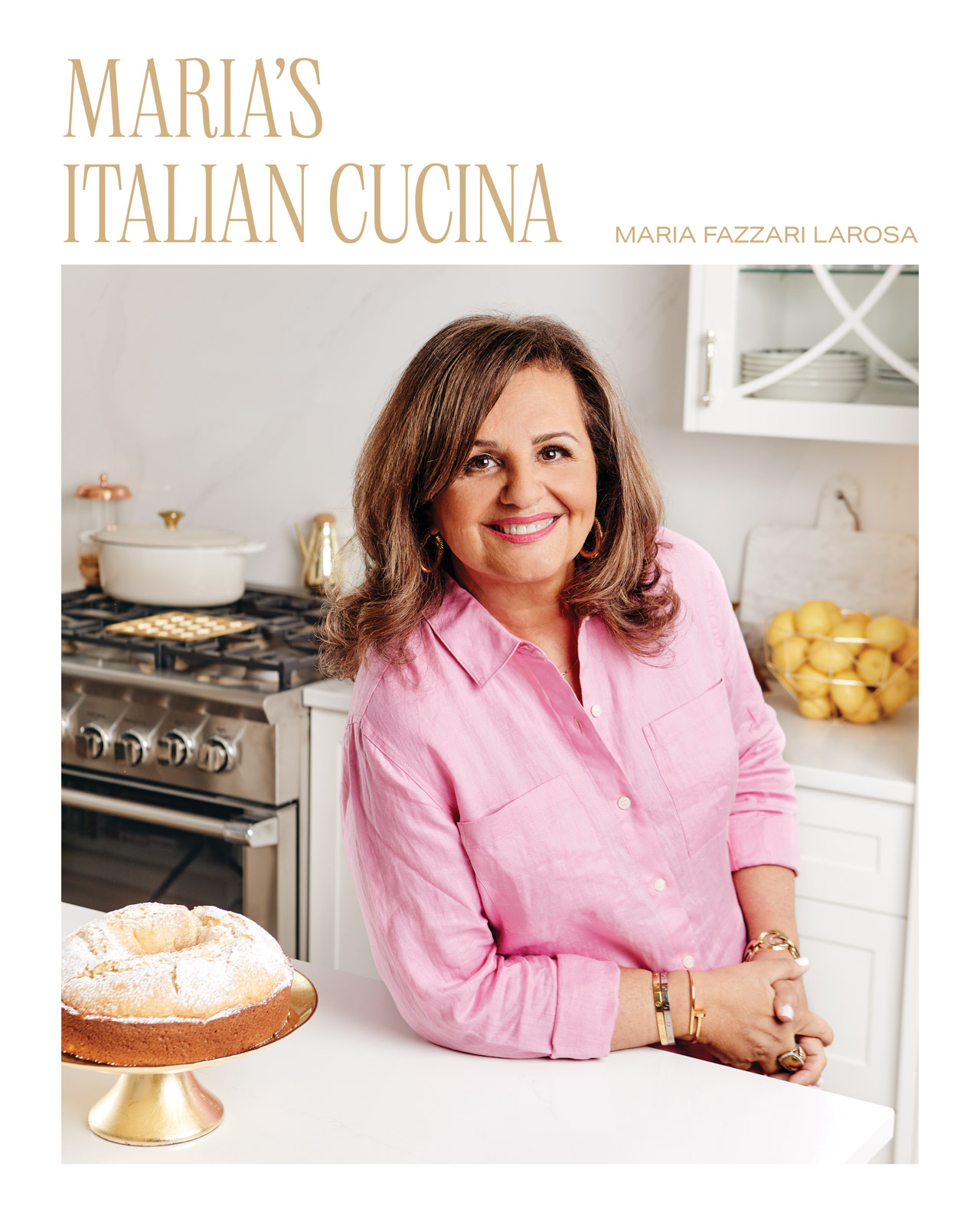 Calabrian Stuffed Eggplants
Serves 12 to 14 
Ingredients
3 large eggplants
3 large buns
1 egg
1/2 cup fresh parsley, chopped
1/2 cup fresh basil, chopped
2 cloves garlic, minced
1 1/2 cups freshly grated pecorino romano cheese
Water for the buns
Salt and freshly ground black pepper
Olive oil for frying
Method
Bring a large pot of water to boil. Trim the top and bottom off the eggplants and cut into quarters lengthwise. Cut the quarters into 2-3-inch lengths. Once the water comes to a boil, add salt and boil the cut eggplants with the skin on until tender, stirring frequently and delicately to ensure that they are submerged, about 20 minutes. When tender, place them in a colander to drain.
When cool enough to handle, very gently scoop the eggplant flesh out of the skins with a spoon. Keep the skins and set aside. Place the eggplant flesh in a clean kitchen towel and squeeze out excess liquid.
Place the three large buns in a bowl and pour enough water over the buns to soften them, then squeeze the buns and break the bread apart into small pieces.

Finely chop the eggplant and place in a large bowl with the bread pieces, beaten egg, parsley, basil, garlic, pecorino romano cheese, salt, and pepper. Mix by hand until thoroughly combined. The mixture should be dense but not firm.

Stuff the eggplant skins with the eggplant mixture. Rub the palms of your hands with some of the oil to keep the filling from sticking to them. Repeat as necessary. This will also aid in smoothing the tops and sides, making sure that the skin is kind of wrapped on the sides.

In a large skillet, place about 1/2 inch of oil and heat over medium-high heat. Have a wire cooling rack ready by the stove. Fry the eggplants until dark golden on each side, starting with the mixture side face-down and then flipping the eggplant once on each side.

Serve hot or at room temperature. (Some of my family members enjoy eating them cold from the fridge the next day.)
Tip: It is very important to not substitute the pecorino romano cheese. Pecorino romano is a hard, salty Italian cheese, made with sheep's milk. Although they are both hard and highly gratable cheeses, parmigiano and pecorino romano are not the same. Pecorino romano has a stronger, more tangy flavour than your classic parmigiano cheese.
---
Maria's Italian Cucina will be published this month by the Self Publishing Agency. Partial proceeds of each cookbook sold will go to Cystic Fibrosis Canada to support author Maria Fazzari Larosa's young nephew Luca. Read more local Recipes here.