If you are one of those adventurous souls who travel to eat, you are probably champing at the bit to taste the world again, once pandemic restrictions are permanently lifted.
If and when you do hit the road, you will of course want to consult Anthony Bourdain's recently released World Travel: An Irreverent Guide. This weighty tome (it is physically heavy) is a posthumously published compendium of extant places Bourdain most loved to eat and drink worldwide, with the practicalities of travel supplied by Laurie Woolever (his one-time assistant and the book's co-author), and the poetry of memorable dishes provided by the "maverick food porn poet" himself, as his friend chef José Andrés once dubbed him on Twitter.
One of the best things about Bourdain's latest (and presumably last) book is that all the information is organized by country, then city, making it easy for travellers to pick through and digest.
It is also, without question, a call to action for ardent fans.
Hardcore locals can jumpstart their quest during the pandemic by skipping to page 58 of Bourdain's book and savouring the Vancouver described in words from season 4, episode 3 of his television series No Reservations, which first aired in January 2008. For that episode, Bourdain brought along a travelling cavalcade to visually memorialize his take on our region and to cement Vancouver's place in the world of cuisine as a must-visit multicultural "Chef Town."
To make this last point, he ate, drank, and talked cheffery with (already) local legends Pino Posteraro of Cioppino's Mediterranean Grill and Enoteca, Hidekazu Tojo of Tojo's, and Vikram Vij of Vij's—plus looked on while the "three amigos," as he affectionately referred to the trio, made magic for his mouth at their restaurants and in Posteraro's home kitchen.
If you got the impression while watching this episode that all four of these food dudes already shared good history together—that this was not an introductory meetup with everyone backslapping and chit-chatting for the camera—you would be right about that.
To get to the root of their camaraderie, though, you will need to flashback to 2004 when Raincoast Books first brought Bourdain to Vancouver to promote his Les Halles Cookbook. It was on that occasion that these three initially met the maestro at an off-itinerary kitchen party hosted by Barbara-jo McIntosh for 12 lucky luminaries at her eponymous, now-shuttered cookbook shop with its own counter and cooking area.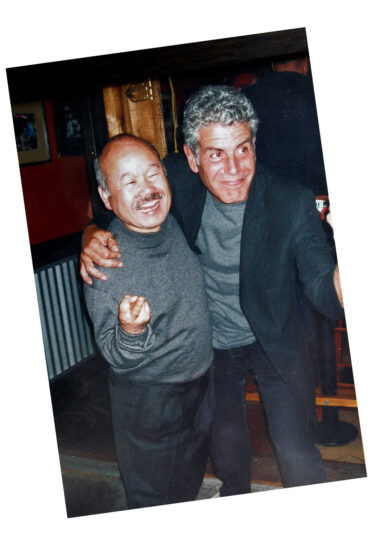 That evening, Posteraro, Tojo, and Vij, along with other high-profile chefs and suppliers, were invited to bring and formally present dishes for everyone to taste. Of the trio, only Vij is dead sure of what he concocted: jackfruit with black cardamom and red chili curry, a meaty vegetarian offering super-charged with complex flavours and spicy ingredients.
Since bombing everyone's taste buds before they could sample subtler dishes, "like Tojo's sushi," didn't seem all that considerate, Vij proposed that his contribution go last, a call that was unquestionably justified after Bourdain himself took a single bite of the curry and purportedly blurted: "Whoa! Now that was a serious explosion." You don't forget something like that, Vij says—even 17 years later.
If anyone had reservations about cooking for the already internationally famous Bourdain that night, McIntosh says he set the record straight shortly after entering her shop and declaring, as she recalls: "'Listen, you guys, I need to let you know right now, not one of you would hire me to work in your restaurant. Got it. I'm not talented enough to work for any of you, so keep it cool.'" And everyone did, she says. "It was a wonderful, wonderful evening."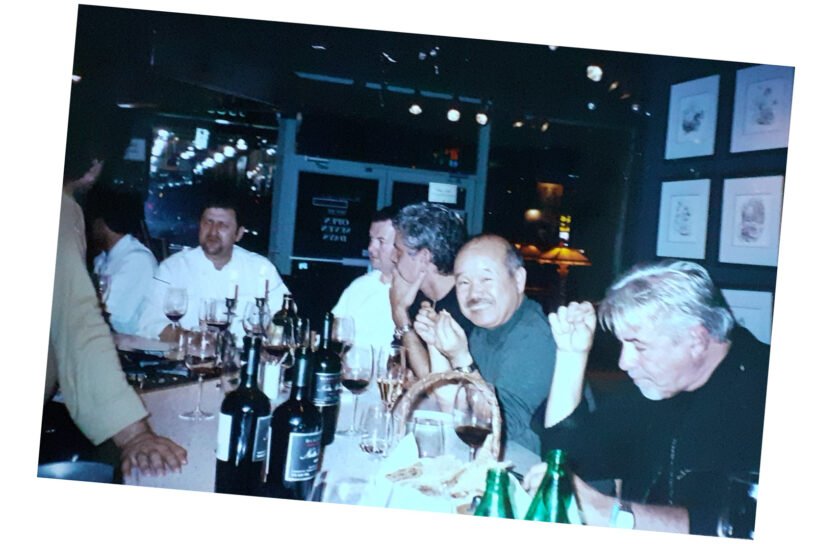 While Bourdain knew his worth as storyteller, Vij says the man compared himself to a glorified line cook when it came to work in the kitchen and confessed as much that night when the two stepped outside on multiple occasions to bond over shop talk and cigarettes.
It was precisely this willing humility, coupled with genuine curiosity and an unvarnished honesty about everything, that drew almost everyone in the food world to him—that and the very real possibility that he could, if they weren't already famous, make them instant stars.
Tojo had long been a lion when he finally, formally cooked for Bourdain at his namesake restaurant on the No Reservations Vancouver episode, where the TV host sat at the master chef's counter and waxed rhapsodic about every morsel he tasted.
Tojo says when he thinks back to his old friend now, he remembers a man who was always game to try every new food, because that's what he likes to do, too.  And he appreciates how Bourdain never dismissed any dish out of hand without first seeking to understand it through the eyes of the person who made it, and the culture that person came from. "Not every critic does that," Tojo maintains.
Cultural appreciation was clearly on Bourdain's mind when he contacted his "pal Pino" in 2007 about returning to Vancouver to film his show. The two had remained connected after the bookshop affair; "we became friends," Posteraro says. "I think he appreciated that I'm frank like he was."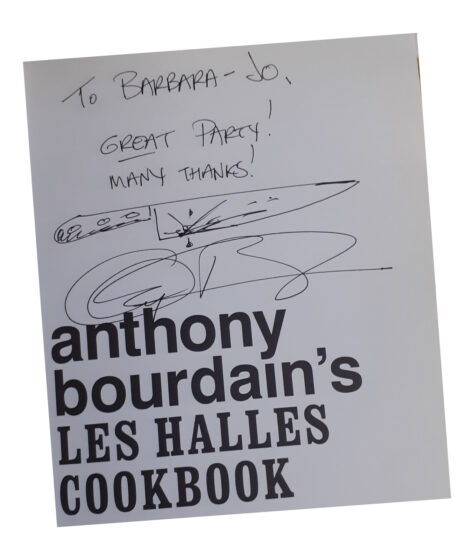 Bourdain wanted Posteraro's help pulling together a multicultural barbecue segment that would include "three great chefs, three different ethnicities, and three interesting things to eat."
It didn't take much for the Italian Canadian to convince the Japanese Canadian and Indo Canadian chefs to participate, and everything was set to go outside when rain forced the trio to tweak their dishes and move the party indoors at Posteraro's house.
Which is where you find them at the end of season 4, episode 3—four compadres hanging out in Posteraro's kitchen drinking, cooking, and talking sugar and smack about the industry they love in the way you imagine all bro-chefs must do.
When the guys finally take to the table to enjoy what Bourdain describes that evening as a delicious "collision of tastes," there is a previously unseen face beaming alongside them from the edge of the spread. It is none other than Barbara-jo McIntosh herself, the very woman who got the whole megillah going in the first place.
---
Read more about local Food and Drink.