Whoever said onions sautéing was the best smell in the world has never made Yotam Ottolenghi's couscous salad. The sweet, cinnamon-y scent of onions—sliced loose-leaf thin and dusted with Moroccan ras el hanout spice mix—caramelizing on the stovetop wafts through my parents' kitchen, perking up even their nonagenarian goldendoodle who has wandered in to see what's for dinner. Cherry tomatoes blister and pop in a neighbouring pan, couscous fluffs in a foil-sealed bowl nearby, and almond slivers toast in the oven.
I'm on side-dish duty for tonight's family dinner, and had snapped a photo of a crisp page (still too fresh to dog-ear) in Ottolenghi's latest cookbook, Ottolenghi Simple, an anthology of easy-but-still-impressive recipes. Later at the table, as we scoop the last tiny pearls of couscous off our plates, I notice that even my dad, who has spent a half-century singeing his taste buds to sandpaper and who currently has his steak sauce at the ready, deems it flavourful enough to scarf down condiment-free (the ultimate home-cook compliment).
This is precisely the kind of weeknight dinner Ottolenghi Simple was written for: siphoning the stress out of at-home meals, and making cookbook dishes more straightforward, more achievable, and less, well, chef-y.
The book, which was released in North America in October 2018, is about "things that still have all the beautiful flavours and intensity of my cooking, but are just a little bit more doable," says Ottolenghi. "There are tons of cookbooks. There are tons of recipes online. The idea [with this] is that you get more support—someone takes your hand and guides you through it."
Ottolenghi is the chef-in-chief of a London-based restaurant empire that has branched into offshoots, from cookbooks (seven, including the highly-acclaimed Ottolenghi and Plenty), to newspapers (he writes a weekly column for The Guardian), to a podcast (Simple Pleasures, whose guests have ranged from fellow cookbook author Nigella Lawson to Broadway favourite Lin-Manuel Miranda). From the outside, his life seems anything but simple, but a quick conversation with the British-Israeli chef with velvet eyes and an almost hypnotic voice—especially when he's describing food—proves he also embraces life's uncomplicatedness: throwing pottery, practising Pilates every week (he's a certified instructor), and prioritizing family.
"It's less about the competition and more about the being, and the serving, and making food more accessible—and therefore a bit more comforting and soothing, which we all need."
"This is a troublesome time in our history," Ottolenghi says, his six-foot-three frame perched elegantly on an armchair in a quiet nook off the lobby of Toronto's Le Germain Mercer hotel. "People are looking to be doing more home cooking, but make things a little less challenging. It's less about the competition and more about the being, and the serving, and making food more accessible—and therefore a bit more comforting and soothing, which we all need."
Ottolenghi has touched down in Toronto for a stop on a whirlwind book tour promoting Ottolenghi Simple, and is documenting the dishes he eats along the way on his Instagram profile—a culinary kaleidoscope of bubbling prawn Bolognese, harissa-sprinkled pappardelle, and cake striped like pajamas with candy-pink buttercream. Some highlights? An iceberg lettuce wedge with chive cream and parmesan at Toronto's Aloette (to die for) and a clay-pot lobster coiled with vermicelli noodles at Maenam in Vancouver (also to die for). He riffs on standout dishes like the former—infusing burnt aubergine into an Aloette-inspired dressing—at his test kitchen in Camden, London, where stoves are electric and most ingredients are sourced from local markets and grocery stores to ensure home cooks can get their hands on them.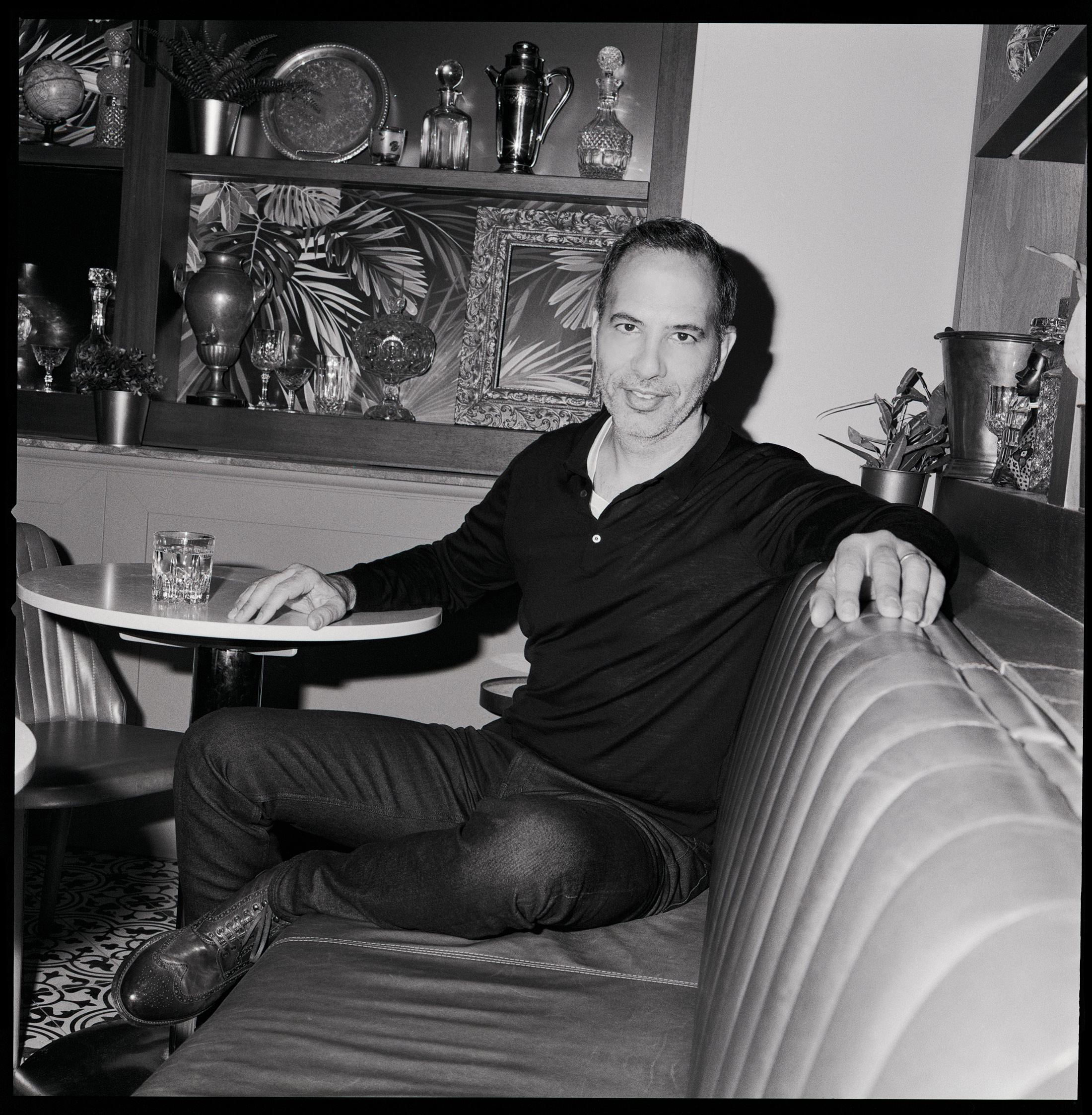 "The biggest challenge [with this book] was to judge what would be considered simple. I remember a recipe for semifreddo, which is a frozen dessert, that I thought was super simple," he says. "After a conversation, we all decided that although we love it so much, it's just not going to cut the mustard. Every person has their own different way of looking at simple cooking. Their own abilities, their own anxieties. This book addresses those differences."
Which is why Ottolenghi Simple was categorized using an acronym of its title, concocted by Ottolenghi's collaborator Tara Wigley, with the legend's corresponding letters appearing at the top of each recipe.
S stands for short on time, suggesting dishes that can be made in 30 minutes or less (this is Ottolenghi's personal "simple"—a weeknight meal he can get on the table in under a half-hour for his two young kids with limited patience. Think lamb and pistachio patties with sumac yogurt sauce).
I is for ingredients, as in no more than 10: recipes that don't require a fridge full of accoutrements.
M is for make-ahead, meaning dishes that can be either completely prepped in advance and heated up just before serving, or have key components that can be made ahead of time for foolproof assembly once guests arrive. "We often entertain on the weekend, and that's more of an 'M' situation, a make-ahead," Ottolenghi says. "If we have a big lunch on the Sunday, on the Saturday night I'll prepare most things to heat up."
P is for pantry—and while every home cook's cupboards will vary, this category is all about getting the most out of what we already have kicking around. "It's really about coming home from work and getting a tin of chickpeas and your packet of pasta and your spices from the cupboard," he explains, "and just making something as simple as that." He categorizes pantry items as either "everyday" (like olive oil, garlic, and rice) or "Ottolenghi" (sumac, za'atar, and tahini).
L is for lazy (cue the raising-hand emojis): one-pan, one-sheet, or one-pot meals for the single-tasking sort.
E is for easier than you think, for recipes that sound fancy or complicated (à la fig and thyme clafoutis), but are actually not as hard as expected.
Ottolenghi had his sister in mind during his deep-dive into what constituted simple cooking. "She always says that she loves eating my food but she doesn't have the time to do it on a daily basis," he says. "[This book] is for people like her, who want to cook dishes with the same level of excitement, the same boldness of flavour and texture and visuals, but don't have the time or state of mind to make a feast every time they cook."
It's one of Ottolenghi's many foundational food theses, reflected in everything from Ottolenghi Simple's unpretentious tone to its caught-in-the-moment, could-be-your-dinner-table photography: the meals that mean the most to us often aren't the showstoppers, the extravagant seven-coursers—they're the simplest ones, whipped up for family get-togethers and lazy Sunday breakfasts.
When I ask which dishes stand out in his own memory, he recounts gorging on his grandmother's take on gnocchi alla Romana—puffy semolina dumplings crusted with parmesan and Pecorino—without skipping a beat. The ingredients are nothing to write a home-cookbook about (butter, milk, egg yolks, pepper), but there's something about the ungarnished, starchy yellow-beige of the dumplings fresh from the oven that just tastes like home. "That is very much a flavour of my childhood: melted cheese over those semolina dumplings. That is very close to my heart," Ottolenghi says with a smile. "And it's actually very easy to make."
Find it on page 198.
---